BLASTED AROUND THE CLOCK BY SALT AIR DANLEY OS-80 HIGH-FIDELITY WEATHERPROOF SPEAKERS DELIVER SONIC CLARITY AT NEW TEXAS A&M UNIVERSITY-CORPUS CHRISTI OUTDOOR STADIUM
Texas A&M University-Corpus Christi is situated on Ward Island, braced on one side by Oso Bay and on the other side by Corpus Christi Bay. With some of the highest average wind speeds in the nation, the entire campus possesses a maritime atmosphere (read: "salty sea spray air, 24/7") that inspired the nickname for its students: Islanders. Thus, when it came time to specify loudspeakers that would remain outside around the clock at the new $9 million Dugan Family Soccer and Track Stadium, A/V design firm Anthony James Partners specified Danley Sound Labs' new OS-80 loudspeaker. The OS-80 delivers the exceptional fidelity and pattern control that are the hallmarks of Tom Danley's innovative loudspeaker designs in a fully-weatherproof housing.
Anthony James Partners was asked to join the project only a few months before it was slated for completion – a very tight time frame – and to make matters tighter, no one bid on the design. For many years prior, the Corpus Christi branch of Network Cabling Services had worked successfully with the university on its networking infrastructure, and when the university learned that Network Cabling Services had an A/V team at another branch office, it saw the solution to its installation dilemma. "We walked the stadium in late June and the project had an August 1st deadline for completion," explained James Daniels, systems integrator with Network Cabling Services. "It was a super tight timeline, and Danley Sound Labs came through – as they always do – on time."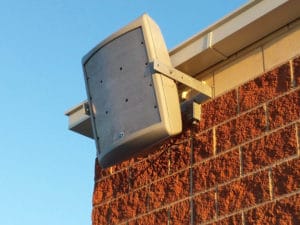 The Danley OS-80 shares the same patented Synergy Horn technology of Danley's SH-Series loudspeakers, which gives it an even frequency and phase response, tight pattern control, seamless array-ability, and vastly improved clarity and intelligibility over conventional designs. In addition, the OS-80 is engineered to function without compromise in driving rain, freezing cold, and, most germane here, maritime air. "The Danley OS-80 is sealed up tight," said Daniels, who took one apart. "There's an O-ring at the split, and there's no other place where moisture can get in. That's critical on Ward Island, where these loudspeakers will be berated by salty wind 18 out of every 24 hours, year in and year out."
The design features ten Danley OS-80s. Four OS-80s hang side-by-side on the press box to cover the main grandstand, which seats approximately 750. Two more OS-80s hang off the side of the press box in a near-field/far-field configuration to cover a gathering area. Two OS-80s hang off the field house in a near-field/far-field configuration to cover the long jump and pole-vault area. And the final pair was made to be a portable rig that could be set up and integrated for different occasions and specific areas that were not covered by the installed sound system. "The system is spread out, with each loudspeaker covering specific areas," said Daniels. "To do it any other way would have risked noise pollution at adjacent buildings and facilities."
Inputs to the system include three field boxes, each with four microphone inputs and two communications inputs, along with press box microphones and audio playback devices. The inputs feed a patch panel and a 16-channel Allen & Heath MixWizard analog console. The console outputs to a QSC Q-Sys Core 250i DSP system. QSC PL-Series and CX-Series amplifiers power the system. "Strictly speaking, the Danley OS-80s are not being powered up to their program rating," said Daniels. "We just didn't need to project as far as they're capable of. Nevertheless, the system sounds incredible – the intelligibility and clarity are phenomenal. We performed a test with a wireless microphone. We were about 650 feet away and the time delay meant that we were halfway through a sentence when it came back to us. We could hear and understand everything perfectly. It was crystal clear." And this, from a fully-weatherized loudspeaker!
Danley Sound Labs
Experience Danley in Person
Find a local distributor and schedule a live demo with one of our many experienced distributors and sound consultants.