DANLEY TAKES ON RICE UNIVERSITY'S NEW BRIAN PATTERSON SPORTS PERFORMANCE CENTER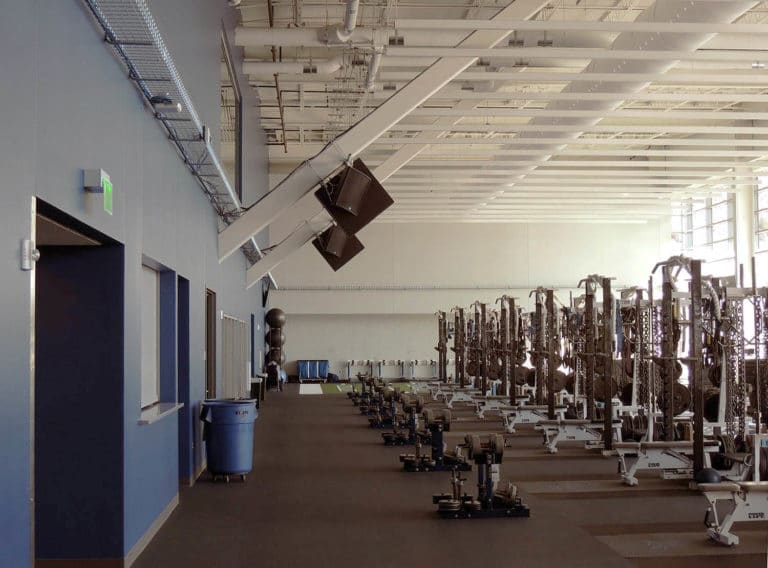 Founded in Houston in 1912, Rice University is Texas's most prestigious institution of higher education, a veritable ivy of the southern coastal plains! Although football has always been a big deal at Rice – much more so than at the traditional ivies – its importance has grown as the Rice University Owls have earned five bowl game appearances within in the last decade (the most recent appearance before that was 1961!). To accommodate and even accelerate that momentum, the university recently invested $31.5 million in the new 60,000 square-foot Brian Patterson Sports Performance Center, which includes offices, locker rooms, student athlete lounges, a sports medicine center, an auditorium, and a strength and conditioning center. In keeping with the new center's state-of-the-art facilities, Baton Rogue-based A/V integrator Technical Services Group (TSG) installed Danley Sound Labs loudspeakers and subwoofers in the auditorium and in the strength and conditioning center.
TSG designed the A/V systems for both rooms. Noted Patrick Meek, senior account executive with TSG and leader on the Patterson Center job. "We've done a lot of work in other college football facilities, and we've learned that we get the best responses when the systems are incredibly high-impact. You can think about it this way: they're coaching 18 to 22 year olds, and there is a certain way those kids associate with media these days. They're immersed in video games, blockbuster movies, booming stereos; and now, as coach, you need to get them pumped up! The system has to go beyond what they're used to."
He continued, "In our experience, Danley Sound Labs loudspeakers and subwoofers deliver the kind of fidelity – clarity of highs and definition of lows – and impact that the student athletes can really immerse themselves in. Danley is of a magnitude that's outside their day-to-day experience." The auditorium can accommodate the entire football team and all its staff, and it's where the team holds its pre- and post-game meetings. TSG installed a pair of Danley SM-100F loudspeakers for left and right output and a Danley SM-96 center channel. The SM-100Fs include a 15-inch driver with substantial low-frequency output. In the expansive strength and conditioning center, TSG installed four Danley SM-80 full-range loudspeakers augmented by two Danley TH-212 subwoofers.
The Danley boxes are backed by QSC Q-SYS processing. In both facilities, Crestron DM8x8 matrix switchers anchor the video systems. The auditorium uses a Planar 3×3 video wall, which creates a 165-inch high-definition screen. Five Sony 65-inch ultra-HD screens populate the strength and conditioning center. In both systems, Crestron control systems integrate the Q-SYS and Crestron video management to provide Rice staff with intuitive control. "Rice is very pleased with the new facilities, including the impactful A/V systems that we installed," said Meek. "It was a great opportunity to work with a tier-1 research university."