TABOR COLLEGE BENEFITS FROM A TRANSPARENT DANLEY SYSTEM IN NEW SHARI FLAMING CENTER FOR THE ARTS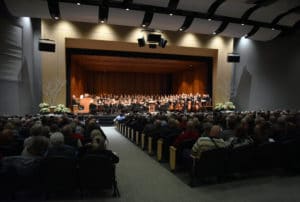 The Shari Flaming Center for the Arts is the largest building project in the history of Tabor College, a Christian school serving approximately 750 students in east-central Kansas. Its 830-seat auditorium will accommodate a huge range of events, from simple lectures all the way up to dramatic performances with live orchestral and choral accompaniment. Glanzer Pro Audio has been working with Tabor College for over two decades, and the school again turned to the local A/V integration company to design and install a sound reinforcement system worthy of the new auditorium. After failing to find a line array solution that satisfied him, company owner Chris Glanzer used Danley Sound Labs' "Danley Direct" modeling software to design a system using Danley's patented, point-source loudspeakers and subwoofers.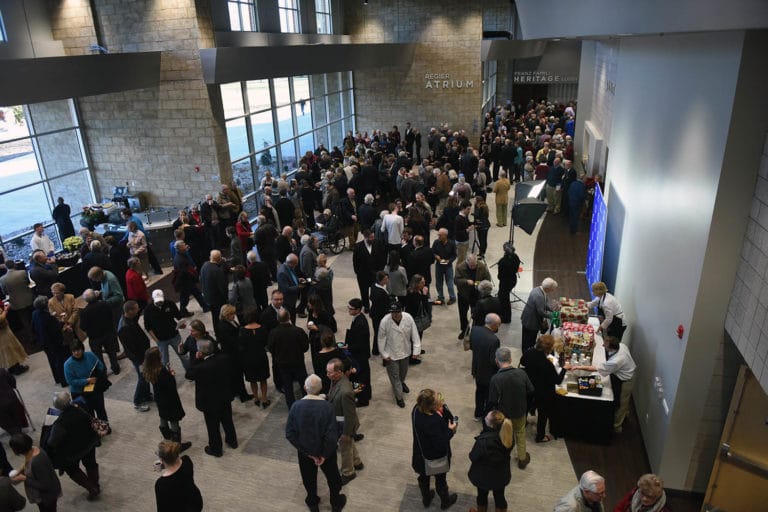 "This project has been in the works for a while, and we initially approached it from a line array perspective," Glanzer said. "But every model we made with a line array looked hideous, with all kinds of energy hitting the walls. Designs with simple trap boxes were no better. In the interim, we installed our first Danley system in a church and had a great experience. I took our Tabor College EASE model and imported it to Danley's Direct modeling software, which had already proved to be extremely accurate for the church. I used Danley Direct to come up with what looked like a great left-center-right system using Danley boxes. To really make sure, I called Danley headquarters and spoke with Ivan Beaver, Danley's chief engineer, who approved of most of the design but suggested that a few of the side fill boxes I included weren't really needed. We left them out of the final design, and after hearing the actual coverage, he was right; they weren't needed."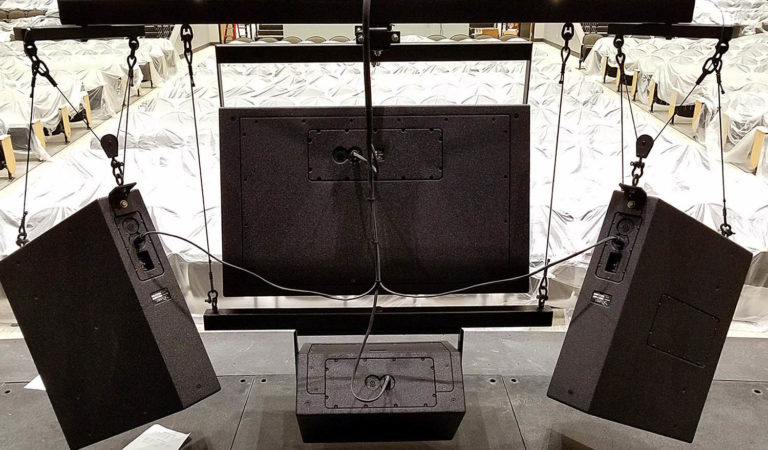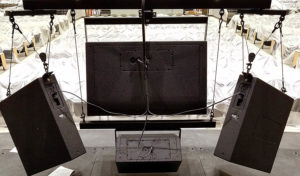 The system is straightforward. Three Danley SH-96 loudspeakers provide all of the left-right stereo coverage and most of the center channel coverage, as well. Two Danley SH-46 loudspeakers and one Danley SH-95 loudspeaker provide side fill and down fill, respectively. Even though space under the stage was tight, Glanzer was able to fit two Danley DBH-218 subwoofers, which fill the auditorium with rich, honest low-end. Crown I-Tech amplifiers power the system, and a BSS London provides signal processing. A 96-channel Soundcraft Vi 3000 console and Shure ULX-D wireless microphones complete the system's major components. Glanzer installed four of Danley's basic GO2-8CX loudspeakers in the auditorium's lobby.
The timeline for installation proved challenging, and it would have been much more challenging if the Danley system hadn't been comprised of so few loudspeakers and of loudspeakers that sound so natural right out of the box. "All of the other trades were delayed, and of course we're the last crew in the door," Glanzer said. "By the time we got in there, things were five weeks behind schedule. After doing a few Danley jobs now, the biggest thing I've learned is that a Danley installation is easier and commissioning is way faster. We used to allocate two full days for commissioning, but after just four hours at Tabor College, we felt ready to hand over a system that we were really proud of. It was also interesting to pull up the Danley Direct model and compare it with the actual coverage. It's pretty much one-to-one!"
Despite the delays, everything was finished in time for the Shari Flaming Center for the Arts dedication in early December. Amid speeches and thank-yous, the music department managed to fill the stage with a 160-member choir, accompanied by a 40-piece orchestra in the pit, with additional performances by the brass ensemble and the theater department. "The system had a lot of stability," Glanzer said. "Gain-before-feedback was fantastic, and I ran most channels flat. Danley's excellent, low-frequency pattern control helped, as did Danley's completely passive, acoustically in-phase design. We received a lot of great comments. Mainly people were impressed by how natural the system sounded. Spoken word just sounded like a natural voice, and people were impressed whether they were sitting in the front, in the back, in the center, or on the sides. In a word, the system is totally transparent."
Glanzer and his crew had a chance to really give the system a thorough listening when they went back to attend a few minor follow-up items after the dedication ceremony. "We just sat in the auditorium and played some tracks that we always play on our completed systems," he said. "Apart from the even frequency response from the lowest lows to the highest highs, we noticed that the high end sounded remarkably 'effortless.' A friend joined us and said he noticed things in the song on the Danley system that he had never heard before. I know that's kind of a cliché, but it's true. I've heard those details on my studio monitors, but I never heard them on the line array systems we installed – all the smearing and lack of real transient response obscured the subtle details. Since the Danley system is all phase-coherent and because Danley's point-source design doesn't result in any comb filtering, the subtle details shine without being hyped. All the instruments really just sound like the actual instruments!"
Danley Sound Labs
Experience Danley in Person
Find a local distributor and schedule a live demo with one of our many experienced distributors and sound consultants.