A SINGLE DANLEY JERICHO HORN COVERS 6,000-SEAT HIGH SCHOOL FOOTBALL STADIUM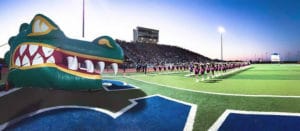 If Friday Night Lights taught us anything, it's that high school football is a big deal, especially in Texas. That lesson applies to Dickinson Independent School District, which serves areas of greater Houston. Its high school team plays at Sam Vitanza Stadium, which seats over 6,000 fans – with hugely lopsided apportionment to the home side! Until recently, however, an underpowered sound reinforcement system (repeatedly driven to failure for want of enough SPL) cast an odd sense of inadequacy over the games and their participants. A well-attended demo of a Danley Jericho Horn convinced Dickinson ISD officials that a single Jericho Horn would put the situation right, as indeed its subsequent installation has proven true.
"The school district kept having problems with the old system," explained Kim Comeaux, regional sales manager with Anderson Sales and Marketing, Danley's rep in Texas. "They kept blowing underpowered loudspeakers and got sick of it. Ray Givens of the big live- and installed-sound company LD Systems contacted me to arrange a Danley Jericho Horn demo. We picked a date that the superintendent, coaches, and other school officials could attend and placed a Danley J1-94 Jericho Horn near their scoreboard, firing toward the home side. They were blown away by the coverage, fidelity, and volume, and the job was cinched just twenty seconds into the demo! LD Systems got the bid."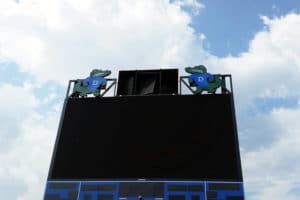 "It's a 300-foot throw from the 55-foot high scoreboard, which is strangely offset toward the visitor side," added Givens. "While there are other solutions that could have met their SPL needs, none could have done so within the small footprint we had to work with on the scoreboard or with the fidelity for which Danley is known. The Danley J1-94 Jericho Horn is a perfect fit and has the output to overcome crowd noise with plenty of clean headroom to spare. The fact that the Jericho Horn is a truly full-range box, with plenty of low end and high end, gives Dickinson's new sound system a real hi-fi sound."
The Danley J1-94 Jericho Horn fires across the field from the offset scoreboard. A four-channel Danley DNA 20k4 Pro amplifier with on-board DSP (custom-matched to the Jericho Horn) drives the loudspeaker, and a new Yamaha QL1 console gives Dickinson's technical staff plenty of control over the inputs and their mix. The much smaller visitors side is covered in part by the Jericho Horn and supplemented by repurposed components from the old system, now moved closer to deliver more effective SPLs.
"They absolutely love their new sound system," said Givens. "The fidelity and volume finally meet their expectations." Comeaux added, "They have also pointed out that the improved fidelity and volume makes the ads that run much more effective. As a result, more of their operating expenses will be covered by advertising revenue!"
Danley Sound Labs
Experience Danley in Person
Find a local distributor and schedule a live demo with one of our many experienced distributors and sound consultants.