ALL FIVE CARROLL COUNTY HIGH SCHOOLS GO BACK TO SCHOOL WITH IDENTICAL DANLEY SOUND SYSTEMS
Carrollton, Georgia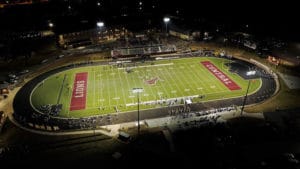 Carroll County is located in northwest Georgia and is home to over 100,000 people. In the fall, its citizens come together on Friday nights to cheer for their local high school football heroes, and the county's five high schools support that tradition with well-appointed football stadiums. Three of the larger schools have stadiums that can accommodate over 5,000 fans, and the two smaller schools regularly fill stadiums with capacities of 2,500. After a persuasive demo by dB Integrations, of Gainesville, Georgia, the Carroll County School District requested identical Danley Sound Labs systems comprised of SH62 loudspeakers, BC412 subwoofers, and DNA 20k4 Pro Dante-enabled amplifiers at all five of its high schools.
"After receiving two separate inquiries from high schools in Carroll County, I suggested a demo for the whole district," explained Ronnie Stanford, director of sales and marketing at dB Integrations. "We got all the decision-makers in one place at one time – the superintendent, his staff, the principals, and the athletic directors, and I brought a range of boxes to span different budget options."
Stanford brought a 720 lb. Danley J1-94 Jericho Horn, which is found in many of the largest stadiums in the world and it abundantly capable of covering a 5,000-seat high school stadium with just a single box. He brought a 235 lb. Danley SH62 loudspeaker, which has a 60 x 20 degree pattern that's perfect for long-throw applications. A pair of SH62s could cover any of Carroll County's stadiums, one per side from an end-fired position. In case they wanted a closer distributed system mounted on lighting poles or a press box, Stanford brought a Danley OS80 loudspeaker. To demonstrate the range of low-frequency options available, he brought a Danley BC415 subwoofer and two Danley TH118 subwoofers.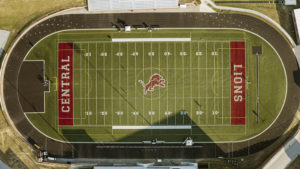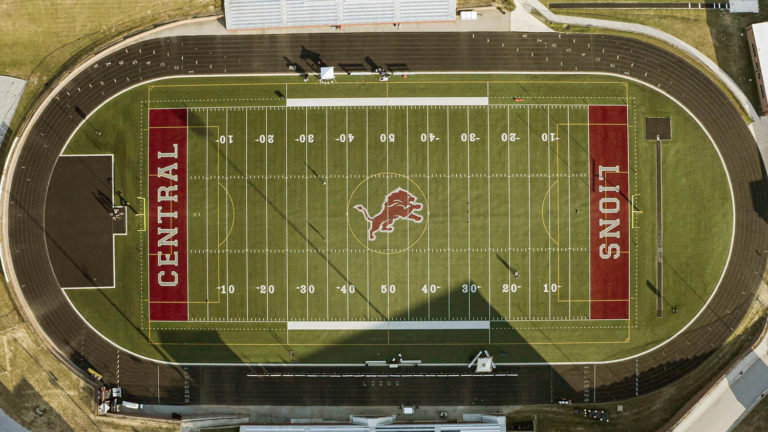 "Everyone present was impressed with the performance of all the Danley models," Stanford said. "The Danley full-range boxes are intelligible and musical, and the subwoofers are deep and undistorted. The superintendent ordered identical systems for all five stadiums." Given their needs and budget, Stanford specified two Danley SH62s and one Danley BC412 (a slightly smaller version of the demoed BC415).
All five stadiums have existing scoreboards that would not be updated with the renovation and, importantly, are not built to handle the weight of the Danley boxes. "So, where do you put the loudspeakers and subwoofer?" Stanford posed. "You can't compromise the integrity of the scoreboard. At dB Integrations, we have designed a 16' x 8' tower that's perfect for this kind of situation." His installation technicians placed a tower well behind the end zone at each stadium and mounted a pair of Danley SH62s on top, splayed to hit either side of the field. A Danley BC412 sits below them, eight feet off the ground. Finally, the technicians installed a climate-controlled NEMA enclosure on the towers to house a pair of four-channel Danley DNA 20k4 Pro amplifiers. The Danley amps include optional Dante connectivity, accepting a simple fiber feed from the press box.
As part of the upgrade, Stanford included new Shure 522 wired push-to-talk microphones, Sennheiser wireless microphones for the national anthem, graduation ceremonies, etc., a Denon DN-300Z CD player with Bluetooth connectivity, and an Allen & Heath Qu-Pac mixer. "Everyone agrees that these Danley systems far exceed expectations," Stanford said. "The low-frequency response is incredible, and all of the full-range content is perfectly intelligible from anywhere in any of the stadiums. We look forward to rolling out similar Danley systems with our custom stand-alone tower at other high schools!"
Danley Sound Labs
Experience Danley in Person
Find a local distributor and schedule a live demo with one of our many experienced distributors and sound consultants.