BIG ON AFFORDABILITY, SMALL ON SIZE: DANLEY NANO LOUDSPEAKERS PROVIDE INTELLIGIBILITY FOR WISCONSIN COUNCIL CHAMBERS
Manitowoc, Wisconsin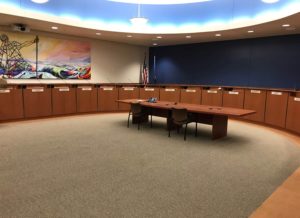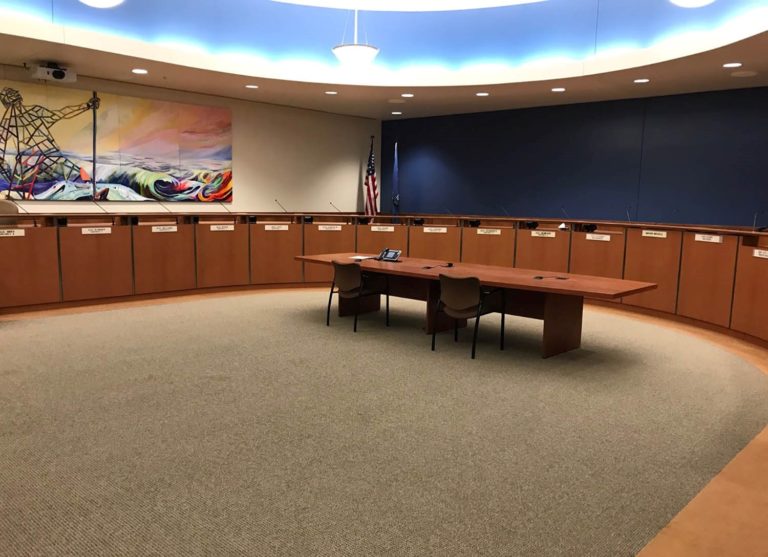 Manitowoc, Wisconsin is a city of just over 32,000 people on the shore of Lake Michigan north of Milwaukee. Its Common Council handles the business of the City in Council Chambers and meets publicly once a month. Until recently, officials and staff were frustrated by a sound reinforcement system that could barely get above a normal speaking volume before threatening feedback. Green Bay-based AV integration firm Camera Corner Connecting Point (CCCP) evaluated the Council Chambers' existing equipment and determined that the most cost-effective solution would be to leave its high-quality microphone system in place but to replace its DSP with a mix-minus system and its loudspeakers with Danley Sound Lab Nanos.
"The loudspeakers the Common Council had wrestled with for decades were literally made of Styrofoam," explained Scott Tomashek, director of CCCP's AV Design Engineering Department. "There were six of them, and the Common Council had thirteen open mics on their large, horseshoe-shaped desk, plus several open mics for the public or invited speakers on the table in front of the horseshoe. Everyone complained that they couldn't hear each other because as soon as they started to turn things up, the system went into feedback. The Council has an excellent Shure microphone system in place, so it didn't make sense to switch the whole thing out for a new integrated mic-plus-speaker-base system."
Instead, Tomashek envisioned a new system that could continue to use the existing microphone system but with a new mix-minus DSP and new loudspeakers – one for each council member and several for the public. "Basically, I wanted to give each member a loudspeaker that had output from all the microphones that weren't near them," he said. "I had to find a small loudspeaker of excellent quality. I had heard the Danley Nanos demoed at InfoComm, and, true to Danley's reputation, they sounded really good, especially considering their size. I thought they would do the job nicely, but I did my due diligence and looked into a lot of other options as well. I was happy to confirm that not only were the Nanos the right choice performance-wise, they were also fairly priced. There are options out there that would have cost more without sounding as good."
Noted Mayor Justin M. Nickels, City of Manitowoc, "Initially, I was unsure of the purpose these speakers would serve and wondered how necessary they would be to the sound quality. But after hearing the clarity they provide, I'm so glad Camera Corner suggested the installation of these speakers. These small and unobtrusive speakers pack a lot of punch and brought our level of sound to a whole other level."
The new system uses a QSC Core 110 DSP to handle all of the input conditioning, mix-minus routing logic, and loudspeaker conditioning. A Danley Nano now sits at every Council member's position, with several covering the public seating area. A six-inch, four-pound cube, the Danley Nano leverages Tom Danley's innovative loudspeaker technology to deliver a phase-coherent, flat response from 190Hz to 15kHz. QSC SPA-Series amplifiers power the system, and a QSC touch panel provides intuitive user control. "We didn't need it so much in this case, but it was good to know going into the job that Danley technical support is so great," Tomashek said. "When we've needed help in the past, we could always get someone knowledgeable on the line immediately."
He continued, "The Manitowoc Common Council loves the new system. They have plenty of clean audio coming from the Danley Nanos, and all the frustration of the old system is a fading memory." Concluded the Mayor, "The team at Camera Corner made our transition from an ancient system to a digital system completely seamless. They were on time, on budget, and we could not be happier with the outcome. This is the best our sound has been in twenty years or more."
Danley Sound Labs
Experience Danley in Person
Find a local distributor and schedule a live demo with one of our many experienced distributors and sound consultants.