DANLEY AND AVE MAKE MUSIC AT AMERICAN REFORMED CHURCH

Way back in 1955 American Reformed Church held its first service with just thirty families in the lovely city of Luverne, located in the extreme southwest corner of Minnesota. After decades of steady growth, the now vastly-larger congregation recently completed construction on a new eight hundred-seat state-of-the-art worship center. Twin Cities-based Audio Video Electronics (AVE) signed on to the project mostly after the facility layout was planned and designed. The architect for the project was Architecture Inc, based is Sioux Falls, SD with Derrick Knight, Derrick Knight Acoustics, as acoustician.
"American Reformed Church is definitely big into music," said Stefan Svärd, owner and president of AVE. "They have a progressive, contemporary worship style, but their old sanctuary had a distributed system that didn't have a lot of impact. They were looking forward to getting a great sound system with their new worship center, and it really helped that they invited us to the project early in its development." Citing superior sound quality, pattern control, and amp-channel-saving passive crossovers, AVE specified Danley Sound Labs SH-60 and SH-95 loudspeakers.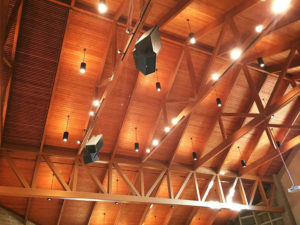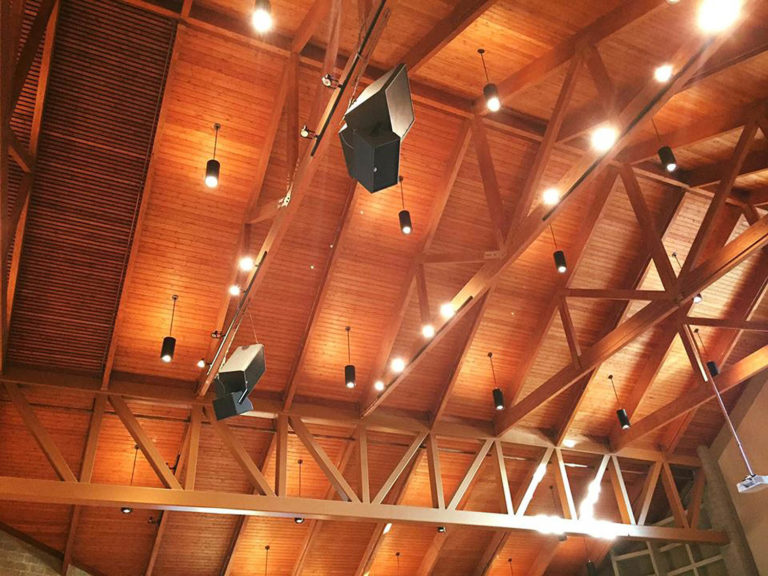 "I've been a fan and supporter of Tom Danley's designs for a long time," said Svärd. "At American Reformed Church, we needed great pattern control to deliver great speech intelligibility. Moreover, we could close-pack the Danley boxes with the assurance that they would operate acoustically like a single point source, that is, without any comb filtering that would mess with the system's clarity and fidelity. The Danley design was also cost effective – where other manufacturer's boxes require bi- or tri-amplification, each efficient Danley box only needs a single amp channel."
AVE gave American Reformed Church a stunning stereo sound reinforcement system comprised of two Danley clusters. Each cluster contains two Danley SH-60s for main coverage and a single Danley SH-95 for down fill. A Yamaha LS9 console provides the necessary user control, with QSC processing and amplification providing the back-end support. "Their budget didn't leave room for subwoofers," explained Svärd. "Nevertheless, the SH-60s provide respectable low end by themselves." Another nice feature of the system is a client-inspired trough that runs the length of the stage. Paneling covers the trough, and small holes allow cables to seemingly disappear into the stage floor. "It's an usually-clean looking stage," said Svärd. 
The LED lighting, designed and installed by Architecture Inc., is stunning inside, as well as outside. In the evening, the large cross behind the stage is illuminated by holes in the wall, which are niched with recessed lighting. That same lighting provides a striking visual of the church wall from the outside, as well. During the day, those same holes allow sunlight to stream in around the cross. Two rear-projection systems flank the cross and provide bold visuals to accompany the church's impactful sound reinforcement.
Danley Sound Labs
Experience Danley in Person
Find a local distributor and schedule a live demo with one of our many experienced distributors and sound consultants.