DANLEY HITS THE PEAK AT FAMILY OF CHRIST LUTHERAN CHURCH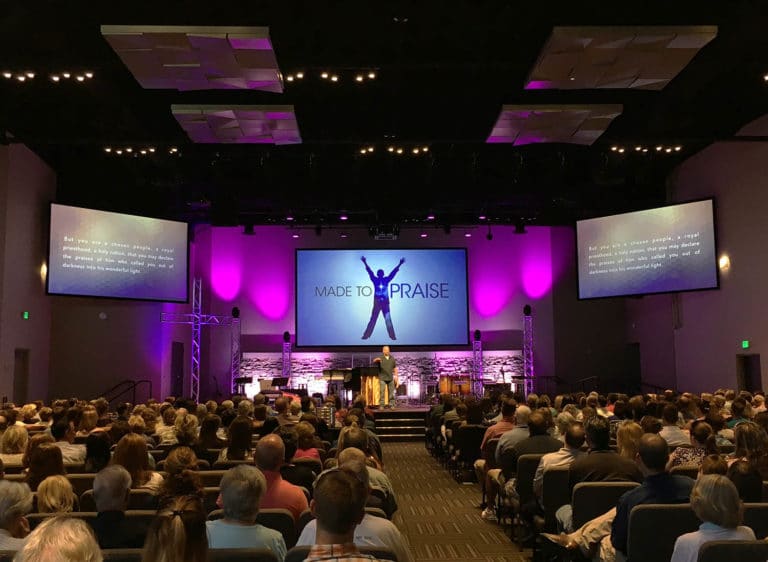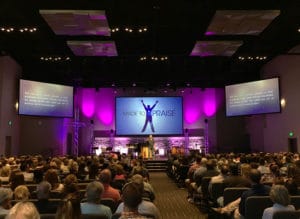 Nestled below the inspiring summit of Pikes Peak and the Rocky Mountain front range in Colorado Springs, Colorado, Family of Christ Lutheran Church has grown tremendously in the two decades since its founding. Indeed, the church recently raised money to build a new 700-seat sanctuary to accommodate its expanding family and to better support its popular contemporary-style services. FCLC hired local A/V integration firm Sight and Sound Technologies Inc. to design and install the new sound, video, and lighting systems. Repeating a strategy that had succeeded in the past, Sight and Sound Technologies COO Kris Johnson partnered with Danley Sound Labs, whose expert engineers helped design an impactful Danley loudspeaker and subwoofer system with transparent fidelity and even coverage.
"Although Family of Christ still has a classic Lutheran service, its contemporary service (complete with a rock band) has been gaining popularity," said Johnson. "They needed high-quality sound, and we naturally go to Danley Sound Labs for that. The room has an interesting shape: the sidewalls are concave in. That made the design a little more challenging. As we've done in the past, we partnered with Danley on the design. We gave them the room's details and they came back with a Danley design that would accomplish all of our goals. I took their proposal and made a few tweaks. They're really good at setting us up… then we kick it through the uprights!"
The sound reinforcement system in FCLC's new sanctuary is comprised of three Danley SH-50 loudspeakers flown in an LCR configuration and supported by two Danley TH-212 subwoofers recessed into sub enclosures under the stage. Johnson arranged a new DiGiCo S21 digital mixer to send most musical sources into the left-right stereo field and speech to the center channel (with the option to configure all inputs to be routed to the center or left and right mains). The Dante output from the S21 feeds an Ashly ne4800 Protea processor with an optional Dante card. "We've noticed that Ashly has noticeably better sound quality than other processors anywhere near its price-point. That makes a difference." Analog output from the ne4800 in turn feeds all of the Danley boxes, which are self-powered, and a complement of DAS Audio floor wedges **that run in conjunction with the Digital Audio Labs LiveMix system also running on the Dante network
The video system is comprised of a Black Magic ATEM 1 M/E switcher tied to an Apple Mac Pro and an Apple Mac Minis. They feed four Christie Laser DHD800 GS-Series projectors, two of which are stacked to illuminate a large twenty-foot wide center screen and two to either side for smaller fourteen-foot wide side screens. The Mac Pro runs the center screen, and the Mac Minis run the side screens. Renewed Vision's ProPresenter church worship software coordinates the visuals and their associated audio, and cameras will add to FCLC's services in the near future. Lighting is primarily by Chauvet and includes six Intimidator trios, Ovation fixtures for theatrical lighting, and COLORado Batten 72T strip lights for illumination of a beautiful stone wall at the back of the stage. A Martin MPC lighting controller coordinates the lights.
"Danley point source boxes were definitely the way to go in this room," said Johnson. "The models proved true, and there is less than 3dB variation across all of the seats. It's very smooth! I attended their first service with the new system, and it went beautifully. They're really pleased!"
Danley Sound Labs
Experience Danley in Person
Find a local distributor and schedule a live demo with one of our many experienced distributors and sound consultants.