DANLEY HORNS ELEVATE THE SOUND QUALITY AT RALPH WILSON STADIUM HOME OF THE BUFFALO BILLS
Fervent football fans know that the Buffalo Bills' Ralph Wilson Stadium is one of the most difficult places for kickers, owning to its exposure to Lake Erie's gusty winds, but few footballs recognize the tremendous challenge those winds create for the stadium's sound reinforcement system. Moreover, Buffalo's notoriously snowy winters regularly incapacitated the loudspeakers and subwoofers that were exposed to it, and unintelligible announcements and underpowered music were a constant frustration. However, with a new Danley Sound Labs distributed loudspeaker and subwoofer system in place, that lackluster performance is history, and Ralph Wilson Stadium now stands as one of the league's best venues for a soul-shaking game-day experience that few living room hi-fi system can rival.
"The NFL is striving to improve the game-day experience," explained Steve Asposto, senior director of broadcast operations with the Buffalo Bills. "We want to keep people coming to the stadium, but with so much HD technology available in fans' living rooms, there is a huge temptation for them to stay home. Our goal is to give them an experience at the stadium that cannot be replicated on the couch, and music is a huge part of that. The league has softened many of the rules that used to restrict music playback, and so now we're able to build music into a greater part of the experience."
The trouble was that Ralph Wilson Stadium wasn't ready to make effective use of those new rules. Even when it was brand new, the old sound system fired from only one side, which generated an intelligibility-killing clot of late arrivals. Worse, over a decade of Buffalo's ceaseless wind and superabundant snowfall had destroyed approximately half of the stadium's loudspeakers and subwoofers. "We used to get regular complaints that the announcements and referee calls were completely muddled," said Asposto. "The clarity simply wasn't there." The Bills called on Anthony James Partners (Richmond, Virginia) to design a new system that would stand up to Buffalo's inclement weather and that would deliver clear, high-fidelity audio even on the windiest days. Ronco Specialized (Tonawanda, New York) installed the new system.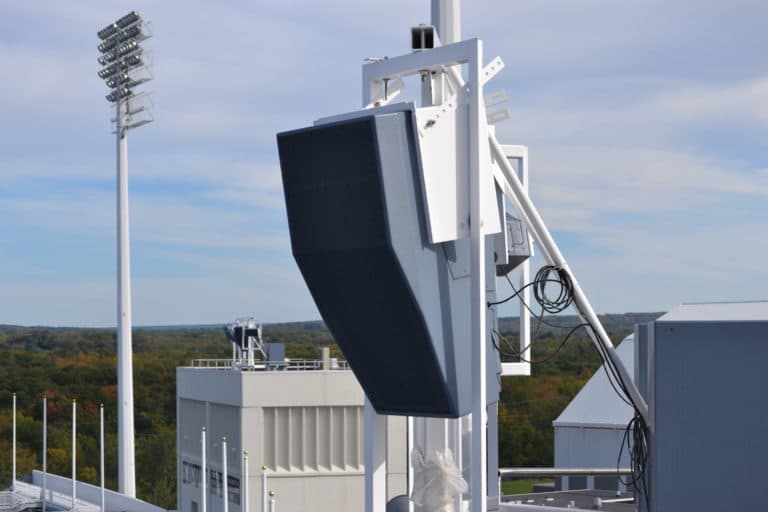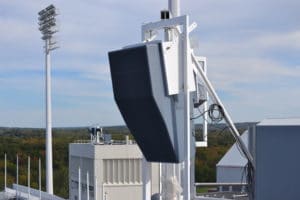 "The idea was to place a loudspeaker and subwoofer cluster on each of four towers that encircle the stadium," said Larry Lucas, director of audio engineering for Anthony James Partners. "As always, price was a big consideration, but we also needed exceptional pattern control to avoid the late arrivals that had plagued the old system. Danley Sound Labs delivered on both counts, and Danley's Shaded Amplitude technology in its GH-60 Genesis Horns would provide even coverage across the seats." Each of the four clusters consists of three Danley GH-60 Genesis Horns, a Danley SH-95 for center fill, four Danley SH-MINIs for fill right below the cluster, and two Danley TH-118 subwoofers. In addition, four Danley SH-64s (two at each end zone) provide additional coverage, and 35 Danley SH-Micros provide under-balcony coverage. An existing Yamaha LS-7 digital console and four Peavey Neon processors (two of which are new) form the front end, and sixteen Lab.gruppen PLM-20000 amplifiers power the Danley boxes. A new computer system operates the system with multiple screens (including one dedicated to the NIO software and a touchscreen dedicated to the Lake software). The amplifiers receive signal via CobraNet or Dante and contain DSP resources to handle all of the loudspeaker conditioning.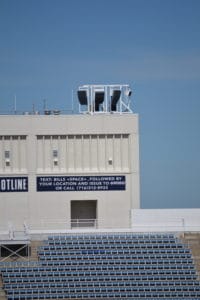 Unfortunately, some of the electrical requirements necessitated a shift in the original design that then compromised the coverage of the Danley GH-60 Genesis Horns. "It turned out that even with the Shaded Amplitude design, the SPL was too hot on the top," said Dean Churpita, who led the installation for Ronco Specialized. "Danley worked with us and twice sent technicians to physically modify the boxes to give us the coverage we needed. The sound quality itself is exceptional. I barely had to equalize the Danley boxes at all!" Al Colucci, account manager at Ronco Specialized, added, "Danley really came through for us. They've been tremendously responsive and are obviously invested in making this installation right for us and for the client."
With the Danley-led modifications now in effect, the coverage is smooth, and the sound quality at Ralph Wilson Stadium has leapfrogged its NFL peers to become one of the best. "We're very happy with the new system and with Danley's commitment to making it perfect," said Asposto. "It's not an easy trick to deliver consistent audio to all 75,000 seats in an open stadium in Buffalo's climate. We're similar to Lambeau Field, except that Lambeau has the benefit of an uninterrupted ring of stands. In contrast, we have a lot of 'holes' for the wind to play with. Despite that, Danley's coverage is keeping direct sound on the seats and minimizing the sort of extraneous echoes that we used to contend with."
Danley Sound Labs
Experience Danley in Person
Find a local distributor and schedule a live demo with one of our many experienced distributors and sound consultants.