DANLEY JERICHO HORNS FIRE 800-PLUS FEET TO SUPPORT MASSIVE VIDEO WALL AT LANIERWORLD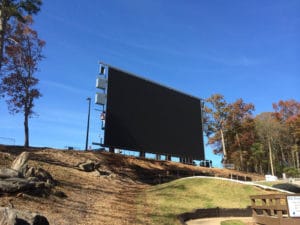 Located just 45 minutes from Atlanta, Georgia, LanierWorld at Lanier Islands is a top regional recreation destination. LanierWorld features waterslides, wave pools, restaurants, sandy beaches, and – as of 2016 – a massive 50-foot by 80-foot LED video wall for showing family movies, music videos, baseball games, football games, and other shows and events. The video wall, which is bright enough to shine even on the sunniest days, diversifies LanierWorld's entertainment offerings and encourages families to extend their LanierWorld experience beyond midday water-based shenanigans. The massive wall faces LanierWorld's sprawling beach and restaurant complex, but its location, across an inlet and on top of a hill some 800 feet from the beach, made sound reinforcement a challenge. Audio/video integration firm Diversified designed and installed an elegant solution based on Danley Sound Labs' massive J3 Jericho Horn loudspeakers – the same loudspeakers that are delivering impactful sound reinforcement at sports arenas around the country and around the world.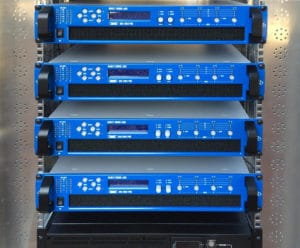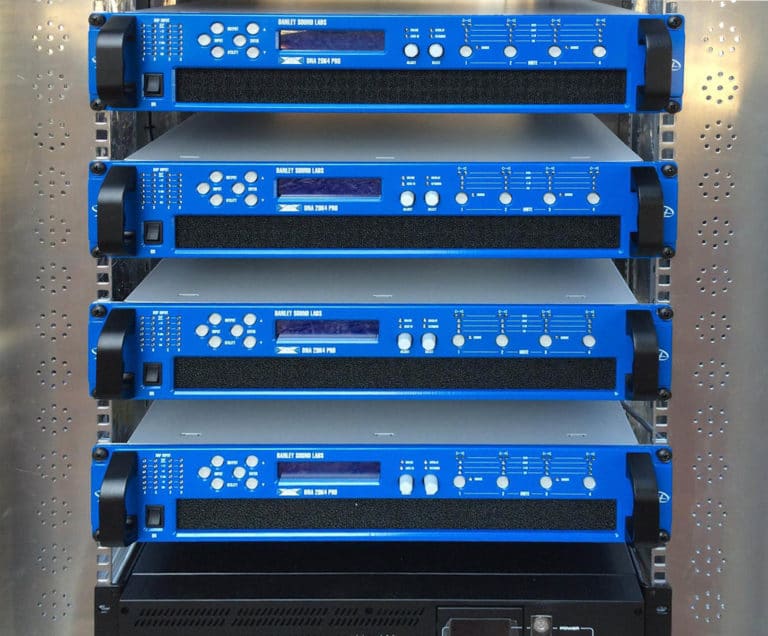 "One of Lake Lanier's fingers separates the video wall from the beach and restaurants where guests sit to watch the entertainment, and Danley is the only company that makes a product capable of firing that far with ample impact," said Scott Clark, veteran A/V designer with Diversified. Clark has a long history with Danley. he was the first person to mix on a prototype Danley SH-50 (the company's original Synergy Horn box) and one of the first designers to use Danley Shaded Amplitude Lens technology for an installation at another major stadium. "Most football stadiums require a 450-foot throw from an end zone scoreboard to the stands behind the opposite end zone. At LanierWorld, we were faced with an 800-foot throw! Not many devices can do that, period – and none but Danley can do it effectively."
Clark has done a lot of research on the human experience of sound – psychoacoustics – and made the argument in a seminar at WFX last year that it is a tremendously important, but often-neglected, aspect of effective sound reinforcement design. "There's already a distributed sound system on the beach, but it would have been a terrible choice for supporting the video wall," Clark contended. "You really need the sound to be coming from the screen to draw people's attention to the screen. Otherwise, there's a disconnect between the image and the audio. Other companies suggested moving the loudspeakers down the hill and just across the water, but you have the same problem. "Moving the speakers up the hill to the LED wall significantly increases the distance beyond where line arrays would be effective. Line arrays just are not powerful enough, and every point source manufacturer except for Danley can't achieve the right SPLs without distortion."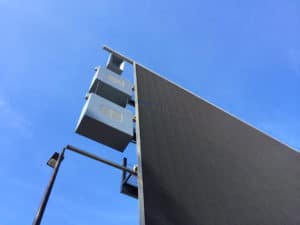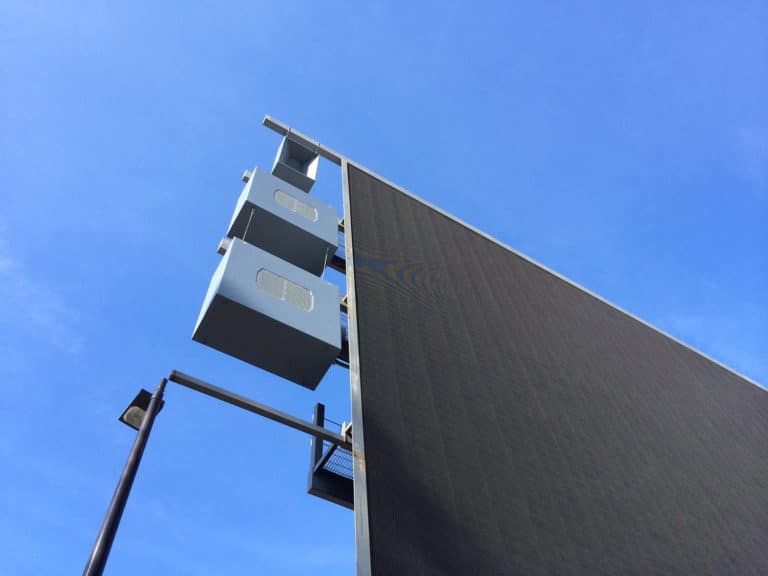 Clark provided a Danley demo at LanierWorld, using both the Danley J3 (J3-64) Jericho Horn and Danley's behemoth Caleb loudspeaker (108 drivers!). "They both sounded great, and the Caleb could do the job without breaking a sweat," said Clark. "But the budget dictated the choice and they went with a stereo pair of Jerichos." For low-end support, Diversified added four Danley BC-415 subwoofers, two to a side with spacing and orientation to provide maximum forward directivity. Just four Danley 4-channel DNA 20k4 Pro amplifiers (80,000 Watts total) power the system, and their on-board processing supplies the necessary crossovers and signal conditioning. Since no microphones or other sources are necessary, a simple Behringer x32 rack mixer suffices as the input source.
"The owner of LanierWorld is thrilled with the performance of the system," said Clark. "They've had other audio installations for other attractions at LanierWorld that didn't go as planned [not involving Diversified, it should be pointed out], and so the success of such a challenging situation is especially cool. They're already talking about other projects that we can address in the coming years!"
Danley Sound Labs
Experience Danley in Person
Find a local distributor and schedule a live demo with one of our many experienced distributors and sound consultants.