DANLEY PLUG AND PLAY SPEAKER AND SUB EASILY CONVERTS STANDARD GYMS INTO CONTEMPORARY WORSHIP SPACES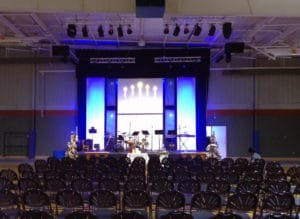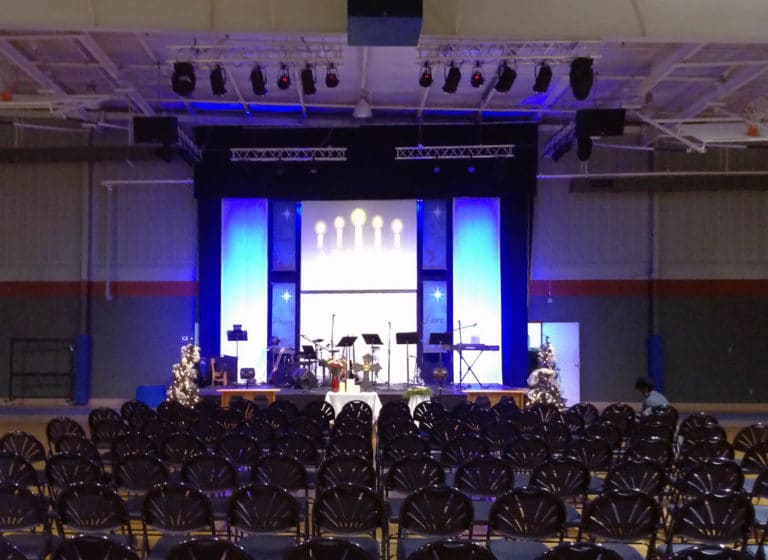 Like many churches with the inspiration and space to make it happen, Hendersonville First United Methodist Church in Hendersonville, Tennessee recently added to its Sunday morning lineup a contemporary service in the building's gymnasium. As excitement and attendance grew, First United called on veteran praise band guitarist and sound system design guru Scott Oliver, owner of Centerline Audio Visual, to replace the temporary sound reinforcement system it had been using with a permanent system. After a comprehensive loudspeaker shootout, Oliver and the church's decision makers homed in on a suitably simple, but immensely powerful, system composed of a stereo pair of Danley SM-100B full-range loudspeakers extended by a single flown Danley DBH-218 subwoofer. Unlike sanctuaries, each of which has the virtue and curse of being unique, Oliver's high-impact design for Hendersonville First United Methodist is now practically plug-and-play for any standard, single-court gymnasium.
"When they first got the idea to start a contemporary service, they didn't know how it would go, and so they sensibly started with a temporary sound system that they could set up and strike every week," explained Oliver. "But it caught on in a big way. Attendance quickly swelled to one hundred fifty people and is now up to three hundred people. They bought chairs for five hundred and called us to make the whole thing permanent. We put in a lot of effort – including thorough EASE modeling and a live loudspeaker shootout – to make sure Hendersonville First United was getting the very best system at a reasonable price. And now we're in a position to replicate this design for other churches that wish to convert a standard gymnasium into a contemporary worship space."
Oliver began his career over thirty years ago as a praise band guitarist and bassist in the late 1980s, a role he continues to enjoy filling to this day. He cut his teeth as the go-to sub in Orange County, and has played in a bunch of churches, including one of the original megachurches, Saddleback. In addition, he has played the stages of the Sunset Strip in its heady hairband days, including Coconut Teaszer and the Roxy, and is an accomplished front-of-house audio engineer as well. "I've got a lot of experience from all of the important perspectives, and I know what it takes to make a sound system successful on all those fronts," he said.
The shootout that Centerline AV arranged at Hendersonville United Methodist involved several prominent loudspeaker manufacturers and several potential Danley models, including the SH-95, SH-100F, SM-80, and SM-100B. They used the church's lift to get the loudspeakers into approximate flown positions. "It wasn't even a fair fight," said Oliver. "Danley killed everything else. Among the Danley models, the SM-100B came out on top. It's like they sprinkle magic dust on them when they leave the factory! To me, the SM-100B sounds like a baby Danley Jericho Horn, in that it is a true one-box solution. It has deep lows, pleasant mids, and a nice open high end." Nevertheless, to give the church awe-inspiring low-end thunder, Oliver included a flown Danley DBH-218 subwoofer between the stereo SM-100Bs.
In addition, Centerline AV treated the walls with Primacoustic Broadway Panels, which, together with Danley's excellent pattern control and the acoustical absorption of the congregants, gives the room a tight, impactful sound. A new Midas Venice FOH provides the user interface, and an utterly transparent Danley DSLP48 DSP conditions the system in front of a bank of repurposed Crown XTi amplifiers. "The Danley processor sounds great, and in all my years of installing them, I have never ever had one fail, either out of the box or after years of service," said Oliver. Chauvet LED lights paired with an LSC Clarity console give Hendersonville United Methodist a cool look to match its sound.
"It's funny how installing a permanent system has changed the perception of the new contemporary service among church members," said Oliver. "Now they view the service as permanent. It has been a real inspiration to the church, and the fact that it sounds SO good has really raised the level of commitment of everyone involved. I'm excited to roll out this proven design for other churches who want to convert gymnasium space to worship space."
Danley Sound Labs
Experience Danley in Person
Find a local distributor and schedule a live demo with one of our many experienced distributors and sound consultants.