DANLEY POINT SOURCE BEATS OUT LINE ARRAYS AT LAS VEGAS' 2,000-SEAT SLS FOUNDRY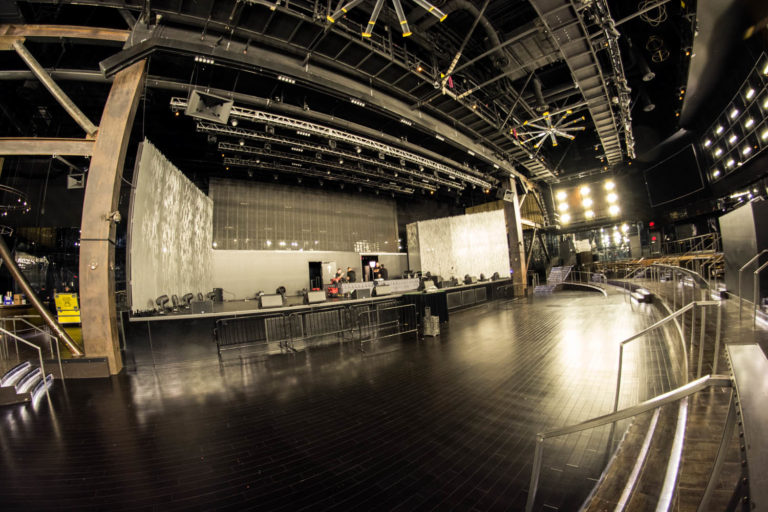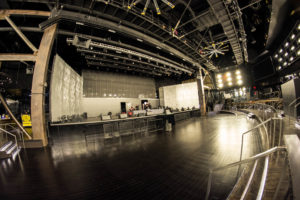 On the north end of the Las Vegas strip, deep inside the SLS Hotel & Casino – formerly the Sahara of Ocean's Eleven and Rat Pack fame – is the Foundry: a new state-of-the-art concert venue. Its odd but impressive layout – three stories tall, far wider than deep with two of the three main bars flanking the spacious stage at a considerable distance – makes for challenging sound reinforcement. The space's brief existence as LiFE Nightclub tested a distributed, million-box solution, and the results were not good. SLS hired JR Sound Company (a scrappy local outfit of live sound engineers wholly dedicated to better live sound) to design a system that would place the Foundry demonstrably above Las Vegas' burgeoning contemporary (i.e. not nostalgic) concert scene. Their forward-thinking plan deftly sidestepped repeated appeals from promoters and industry insiders to go with a line-array solution (Why not? "too uneven; too much comb filtering"). Instead, point source Danley SH-96HO mains, SH-95HO & SH-95 fills, SM-80 on-stage monitors, and TH-118 subwoofers bathe the Foundry in coherent, undistorted, lusciously transparent audio at sound pressure levels to silence all skeptics.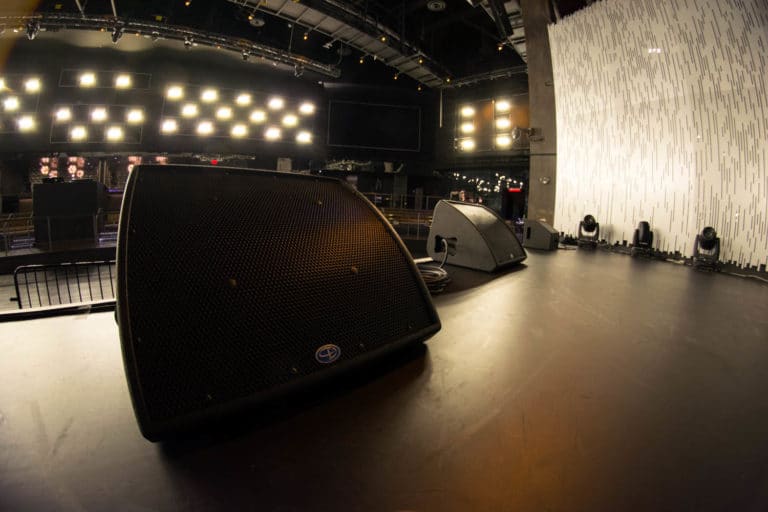 "We're both from Chicago originally (we moved to Las Vegas a decade ago) and we've been longtime fans of Tom Danley and Doug Jones," said James Rush, co-owner of JR Sound Company, speaking on behalf of himself and the company's other co-owner, Mark Dudzik. "I think it's great that they're now on the same team in Danley Sound Labs! Anyway, we were working as SLS's sole audio provider for over a year when they approached us about converting LiFE Nightclub into an awesome modern concert venue. Although we mainly do design and consulting these days, Mark and I are both live sound engineers by training and passion, and so we were excited to take on the project and to do it right."
Dudzik joined, "There was a lot of pressure to go with a line array system, if for no other reason than that everyone knows what they're getting. That, and the fact that riders will be satisfied if they can check off 'line array.' But we had already had a lot of experience with Danley's point source systems, and we knew they sound way better than even the best, most-expensive line arrays. We took the stance that, as engineers, we would much rather mix on a Danley system. To prove our point, we arranged a shootout between our company's Danley SH-96s and the leading line array choices. SLS had the confidence to move forward with the obviously better sound of a Danley system. As for riders, the venue says, in effect, 'if all you need is a line array, we've got you more than covered with our point source system.'
The system Rush and Dudzik designed consists of two Danley SH-96HOs for main stereo coverage. They have 90-degree dispersion with complete phase coherence within that band and thus deliver even coverage and stunning spatial imaging to the majority of listeners. The room fairly breathes with stereo depth and dynamics. Two smaller Danley SH-95HOs provide out-fill to cover the flanking bars on either side of the stage. Four Danley SH-95s provide front-fill. The "HO" variants deliver greater high-frequency headroom where it's needed.
"With line array systems, the resultant sound, like a house of cards, depends on all of the components and their DSP. If you take out components, the whole thing becomes unbalanced," Dudzik said. "In contrast, when we take out any of the fill speakers in the Foundry's Danley system, the system still sounds great. And when we put them back in, it's almost like they reinforce the stereo image. There's no comb filtering and all of the patterns work together. It's really stable."
Three Danley TH-118 subwoofers hang under each main cluster (six total). "We've done shootouts with Danley tapped-horn [TH] subwoofers against all the other leading designs," said Rush. "A single Danley 18 puts out way more energy and bass than any conventional double 18, and the Danley boxes couple together perfectly. Unlike conventional designs, which I can always get to fart out at some point, the Danley boxes have no floor. In fact, we drove a TH-118 with 5,000 watts wide open, and the only noticeable effect was the smell of burning varnish from the coils! But no distortion!" By way of comparison, the previous system used twelve double 21s, and the six Danley single 18s sound way more musical and just as loud.
The musicians on stage at the Foundry get Danley clarity too, in the form of twelve bi-amped Danley SM-80 monitors. "I got into this business as a monitor engineer, and I can say that the SM-80s sound great," said Rush. "And, amazingly, no one ever asks for more volume when they're using Danley monitors. The clarity and fidelity cuts through, and their coaxial design does good things for the on- and off-axis response. In fact – and I know no monitor engineer will believe this until they experience it for themselves – a few musicians have actually asked me to turn a Danley monitor down!"
Two new Midas M32 consoles (one for FOH and one for monitors) with a Midas DL32 stage box form the interface for the sounds picked up by a new Shure live microphone package. Output from the Midas system feeds a Danley DNA SC48 DSP unit via a 96kHz Dante network with backup analog outputs for the mains, fills and subs. A beefy rack of Danley DNA 20k4 Pro and DNA 10k4 Pro amplifiers power the complete system at four channels per unit. Onboard DSP on a subset of the amps provides loudspeaker conditioning for the monitor system.
"The Danley loudspeakers and subs have a vastly smaller footprint that a comparable-output line array, and that's a little off-putting to engineers who haven't worked with a Danley point source system before," said Dudzik. "But then we fire it up and push it to 120dB easily with no distortion. They're always amazed. You just don't know that high volume live sound can sound so fantastic until you've experienced it. That said, we still have tons of headroom beyond. No one will come close to hitting the limits of this system!"
Danley Sound Labs
Experience Danley in Person
Find a local distributor and schedule a live demo with one of our many experienced distributors and sound consultants.