DANLEY SOUND LABS' FAMOUS PATTERN CONTROL DELIVERS THREE STEREO IMAGES AT IMMANUEL NASHVILLE
Nashville, Tennessee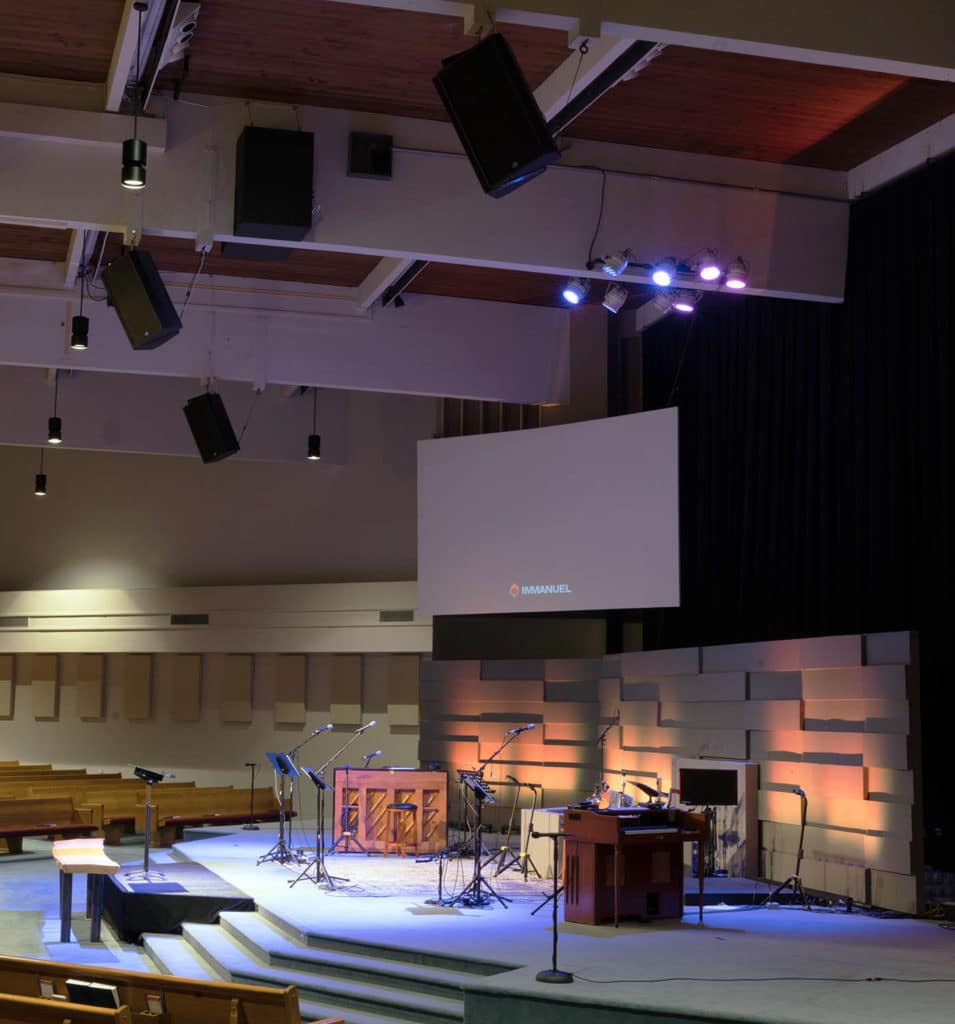 Immanuel Nashville is a ten-year old church on the west side of the famous music city, and its rapid growth recently inspired a move to a bigger, 1,000-seat sanctuary. Although its services are rooted in a traditional approach, Immanuel Nashville also stages a full band and blends its traditional hymns with more contemporary music. After making do with a temporary system, the church hired local AV integration firm Essential Audio to design and install a fantastic new permanent sound reinforcement system. Given its wide, fan-shaped seating, Essential Audio relied on Danley Sound Labs' famous point-source loudspeaker pattern control to deliver a system that provides for three separate zones of left-right stereo imagery, but functions as an exploded mono system for speech information. Danley subwoofers and multi-channel amplifiers provide additional support.
"I met Immanuel Nashville's  communications director, Brian Bobel, at a friend's backyard campfire, and we got to talking about the church's need for someone to take a big-picture look at their AVL equipment, which had been put together a piece at a time over the last decade," explained Ben Williams, owner of Essential Audio. "They were making the best of a tough situation: a pair of loudspeakers on poles meant to cover a very wide fan shaped seating area. There were huge variations in the coverage. Some people were getting blasted and some people got almost no direct energy at all. It wasn't a viable situation even for the most skillful engineer."
The system Essential Audio installed uses eight Danley SH69 loudspeakers configured as three clusters and two outfills, flown across the front of the stage. Six of the loudspeakers comprise three stereo systems for musical content and two serve as a "center" channel for spoken word. Two Danley TH118 subwoofers hang from the middle of the room for low-end support. Three Danley 10k4 Pro amplifiers provide twelve total channels of power for the system, with custom loudspeaker protection circuitry. A Symetrix Prism DSP handles all of the complicated routing and processing required to get the hybrid "zoned stereo" (music) and "exploded mono" (speech) imaging. The Solus outputs Dante to the Danley 10k4 Pro amplifiers.
"I pretty much default to Danley these days, mainly because of Danley's incredible pattern control and fidelity," Williams said. "Danley's low-mid information drops off right where the high frequencies drop off, which really allows for a system like the one we installed at Immanuel Nashville. I was able to put the transitions in the aisles, and there are no phase issues between adjacent boxes. In addition, the church gets way better feedback control on stage and minimizes the diffuse energy throughout the room, but especially at the back. Related to that, we can often build Danley systems without front fill or delays because the pattern does such a good job of keeping energy on the seats and not elsewhere." 
He continued, "the staff at Immanuel Nashville is really pleased with the power and fidelity of the new system. Their technical director, Jason Cheek, was on hand when I first fired things up before commissioning, which usually makes me a little nervous. But he was blown away by how consistent it was and with the coherence of the stereo image. It's really a massive step up for them!"
Danley Sound Labs
Experience Danley in Person
Find a local distributor and schedule a live demo with one of our many experienced distributors and sound consultants.