DANLEY SOUND LABS POINT SOURCE JERICHO HORNS AND BC-SUBWOOFERS IN GRAMBLING STATE UNIVERSITY'S ICONIC EDDIE ROBINSON STADIUM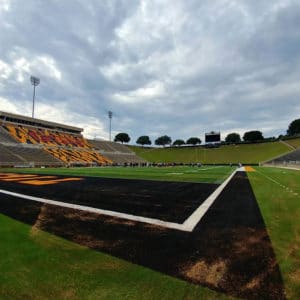 College Football Hall of Famer Eddie Robinson holds the record for the second-most victories of any college football coach while leading the Grambling State University Tigers in over fifty seasons of play, from the 1940s to 1997. Robinson coached over two-hundred players who went on to the professional AFL, CFL, and NFL leagues, and in any discussion about who was the best football coach of all time, Robinson is always in the running. Indeed, many pundits put him at the top. Thus, the small, historically-black Grambling State University is indebted to Robinson for elevating the school's exposure and reputation. When the school constructed a new 20,000-seat stadium in 1983, it named the stadium in his honor. Recently, Eddie Robinson Stadium underwent scoreboard and sound system renovations, and a new, powerful, simple Danley Sound Labs Jericho Horn and BC-subwoofer system now puts the emphasis on experience in the game-day experience for Tigers fans.
"The old sound system was antiquated, and – besides that – it had to come out with the old scoreboard that Nevco, of Greenville, Illinois, was replacing," explained Larry Habetz, owner of A/V integration firm Gulf Coast Production Systems (GCPS) of Rayne, Louisiana. In collaboration with Danley rep Kim Comeaux, GCPS designed and installed the new Danley system for Eddie Robinson Stadium. Based on past successes, Nevco brought GCPS in on the project to handle the sound system integration.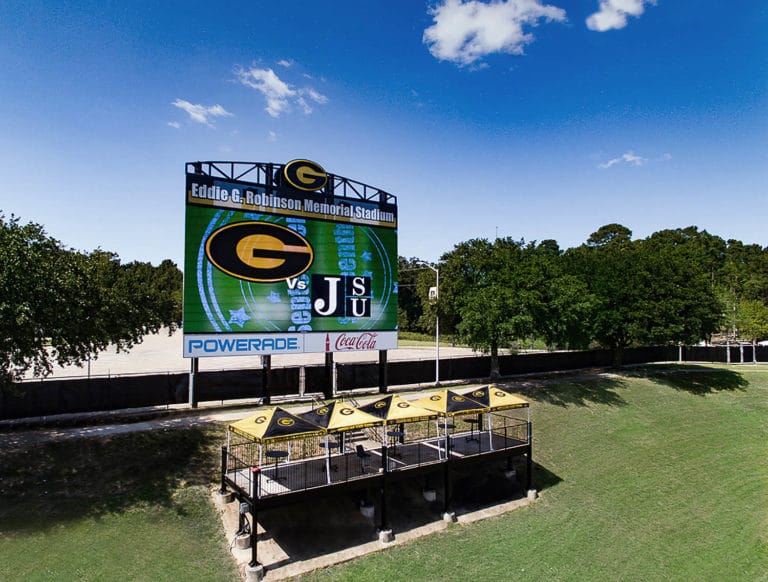 "We're pretty new to Danley," Habetz continued, "but we're also based in Louisiana, home to LSU's 102,000-seat Tiger Stadium. The Danley system at Tiger Stadium has been a huge success and offers proof of concept for anyone who wonders about Danley's point-source technology for large stadium applications. For Eddie Robinson Stadium, it was clear that a Danley system would deliver the significant SPLs that Grambling wanted with fidelity and impact. Although the line item numbers for Danley boxes make them look pricy, the fact that you need so few boxes and so few amp channels make an entire Danley system extremely competitive. We're typically hanging just one Danley box for every five to ten boxes of a comparable line array system."
The timeline for the installation was tight. From the moment GCPS had the purchase order to the first game of the 2017 season spanned just five weeks. "That's a little shorter than the usual delivery time on an aqua-tight Jericho Horn, but Danley rocked it out and got the boxes to us ahead of schedule," Habetz said. "We got the infrastructure in place ahead of delivery and then hung the boxes on Wednesday and Thursday, tuned the system on Friday, and showed up for the first game on Saturday! The fact that a Danley system is so simple and has so few 'moving parts' made it possible."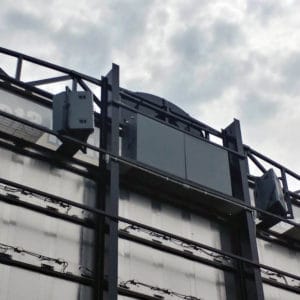 Indeed, a 20,000-capacity crowd gets ample coverage and volume from just two Danley J3-64 Jericho Horns, one on either side of the new scoreboard. Each Jericho Horn is powered by a four-channel Danley DNA 20k4 Pro amplifier. The only other components in the entire system are two Danley BC-218 subwoofers mounted together at the top center of the scoreboard and powered, together, by a single DNA 20k4 Pro amplifier. GCPS used the Danley amplifiers' on-board DSP and custom-made presets for J3-64s and BC-218s to get the system close to dialed in, then long-time collaborator James Young of Current Designs in Acoustics stepped in for the final commissioning. "Jim [James Young] put maybe two or three parametrics on the output to boost or cut a few frequencies that were specific to the acoustics of Eddie Robinson Stadium, but it was very modest," Habetz said. "We also worked with Josh Millward at Danley to get the Danley amp's multiple layers of loudspeaker and circuit protections in place because Grambling is really going to put this system through its paces!"
Now several weeks in, the technical staff at Grambling has gone out of its way to let GCPS know how happy they are with the new system. "It sounds excellent and can go as loud as they care to go," Habetz said. "It was a really great project, and we're looking forward to working with Danley technology at the very next opportunity."
Danley Sound Labs
The Best in Collegiate Athletics
Danley Sound Labs amplifiers, loudspeakers and subwoofers can be found in arenas and stadiums across the United States. Contact us today so we can connect you with a local distributor and schedule a live demo.