DANLEY SPEAKERS ON THE FIELD AT WEST POINT ACADEMY GRADUATION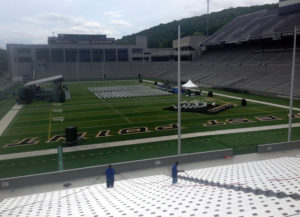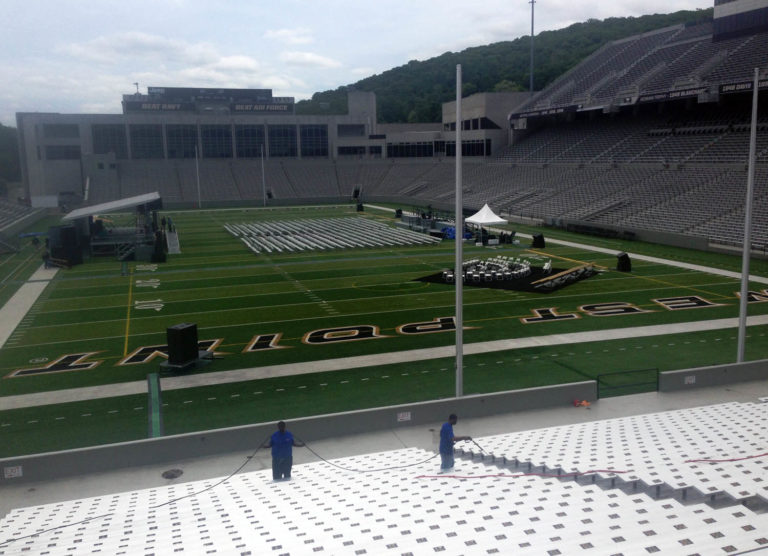 Every spring, the United States Military Academy at West Point graduates approximately 1,000 cadets in a ceremony with nearly 20,000 parents, relatives, and dignitaries that utilizes 80% of the campus' Michie Stadium seating areas. Steeped in tradition, this year's ceremony centered on a heartfelt speech by the Joint Chiefs of Staff Martin E. Dempsey, the military's highest-ranking officer. As it has for many of the graduations in the past, the army hired Eastern Stage Productions (ESP, of Edgewood, Long Island, NY), to provide sound reinforcement for the graduation ceremony. This year ESP improved on its design by using Danley Sound Labs SH-96HO and Jericho Horn J1 loudspeakers to provide long throw full-range coverage for all of Michie Stadium's seating.
"To take advantage of the beautiful views of the lake and campus to the east, the west side of Michie Stadium is 150-feet high and fairly steep," said Bill Danilczyk, president of ESP. "West Point uses that to their advantage for the graduation ceremony by placing the stage on the east side of the football field near the 50-yard line, which allows them to use the towering stands on the west side plus both end zones for seating. In the past, we've covered those stands using multiple stacks of five line array boxes per stack placed on a bumper and kicked up with custom bracing to achieve the steep angle, but I've long felt that there must be a better solution."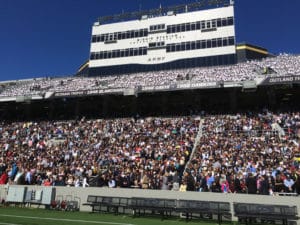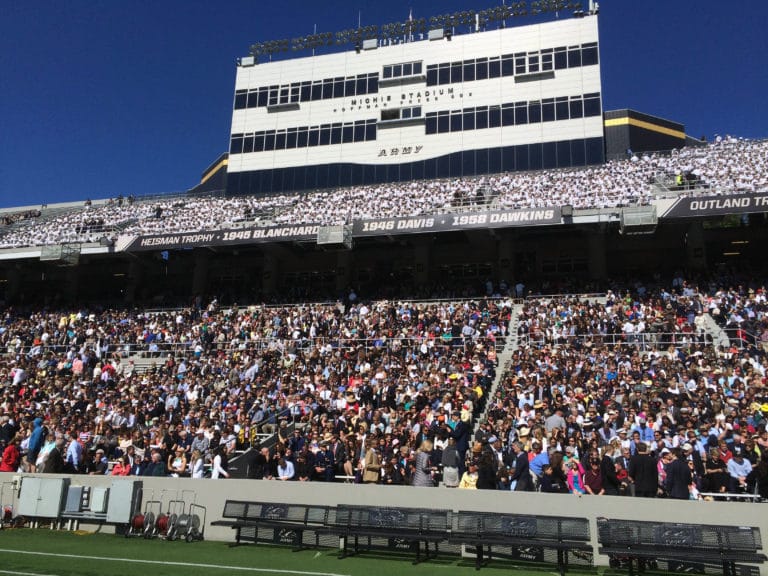 He continued, "We've recently become acquainted with the innovative synergy horn point-source loudspeakers from Danley Sound Labs, and we've been impressed by their power, pattern control, and intelligibility. In fact, we ran some tests with program material played through a Danley SH-96HO, a Danley Jericho Horn J1, and a big-name line array. At 400 feet, both Danley boxes had noticeably greater clarity, and that impression was backed up by our measurements. The measured wave front maintained its coherence from the Danley boxes significantly better than from the line array. That's also a good indicator of intelligibility, and intelligibility is critical at the West Point graduation ceremony." In addition to several speeches, the sound reinforcement system conveyed the Army Band's and the Glee Club's performances to the spectators.
ESP used five stacks, each consisting of another manufacturer's subwoofer below a Danley Sound Labs SH-96HO, to cover the broad, tall western stands. A custom-made chock tilted each stack up 25 degrees, just the right amount to allow the SH-96HO's ample 60-degree vertical coverage pattern to be centered on the bottom of upper stands while still covering the near bottom of the lower stands. One Danley Jericho Horn J1 per side on a two-inch riser amply covered all of the north and south end zone seating. Lake processing and Lab.gruppen amplification provided the front end for three of the SH-96HO stacks, whereas the remaining two had onboard processing and power. A Danley DSLP48 signal processor provided the requisite signal conditioning for the two Danley Jericho Horn J1s, with Powersoft K10 amplification.
"In addition to improved sound quality and intelligibility, the Danley boxes had several other big advantages over our old line array solution," said Danilczyk. "The old line arrays included five boxes that stacked up to eight feet tall and negatively impacted sight lines. In contrast, the new clusters are only four feet tall including a sub and obstruct no one's view. In terms of logistics, the efficiency of Danley speakers meant less weight and less space used in the truck and a much faster setup time. Each of the old line arrays took six guys a half an hour to put up having to lift 220-lb. speakers over their head. In contrast, each of the news clusters took two guys just five minutes to put in place. To a live sound company, those are critical advantages."­­
Danley Sound Labs
Experience Danley in Person
Find a local distributor and schedule a live demo with one of our many experienced distributors and sound consultants.