DANLEY TH-812 "ROCK MONSTER" SUBS SHAKE BIG-10 FOOTBALL FANS IN ILLINOIS AND WISCONSIN
The University of Illinois' 60,000-seat Memorial Stadium and the University of Wisconsin's 80,000-seat Camp Randall Stadium each received a huge new Daktronics video board in time for the 2013-2014 season. At 3,500 and 4,200 square feet, respectively, the new boards dwarf their predecessors in both size and quality. With them came new Daktronics-designed and installed sound reinforcement systems, each with abundant musical low-end supplied by four giant Danley TH-812 "Rock Monster" subwoofers. For the throngs of ardent Illini and Badger fans that pack the historic stadiums on game day, the powerful low-end inspires new levels of enthusiasm!
At four hundred and counting, South Dakota-based Daktronics has installed more sound reinforcement systems in large sports venues than any other company in the U.S. "Our clients never ask for more high end," laughed John Olsen, a Daktronics regional sales representative with a focus on large sports venues. "And when it comes to low end, no one ever complains that there's too much! With the program material that is being played by students these days, thunderous low end has become an essential component of the game day experience. Danley provides a clean and punchy low end that we like better than most other manufacturers." Daktronics has a complete in-house design team that includes system design engineers, electrical engineers, mechanical engineers, structural engineers, marketing experts, project managers, field installation engineers, and site supervisors. "It's a big team that, together, builds very engaging sound solutions for our customers and their fans," said Olsen.
Both new systems use JBL VLA line arrays for full-range content. A BSS Hi-Q Network and Crown amplifiers provide processing and power at Illinois, and a QSC Q-Sys Network and QSC amplifiers do the same at Wisconsin. Each stadium's complement of four Danley TH-812s hang from its new scoreboard and provide, in Olsen's words, "seat-shaking bass" fifty feet off grade at Illinois and one hundred feet at Wisconsin, using 128,000 watts of power. "Our design team keeps specifying Danley's Rock Monster because it gives our clients a rich low-frequency response that extends below that of most normal subwoofers."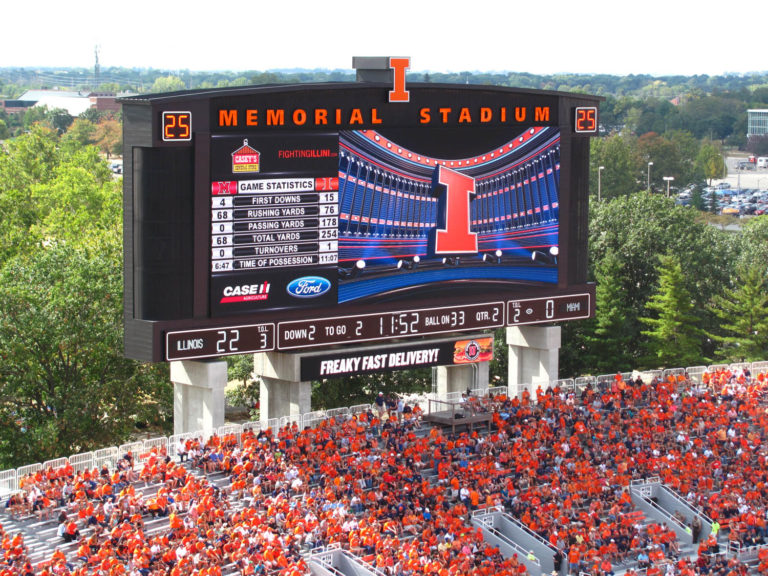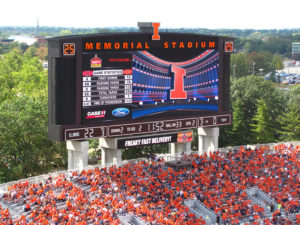 Olsen continued, "When a client's new system is operational, it's always a great day. And when we bring the subs into the mix, the usual reaction is stunned silence and big smiles. The contrast is stark: they had been using a system with only partial low-frequency response that had reached the end of its life. Moving to a new system with the kind of deep low-frequency response that the Danley TH-812s deliver really puts an exclamation point on the new experience!"
Danley Sound Labs
Experience Danley in Person
Find a local distributor and schedule a live demo with one of our many experienced distributors and sound consultants.