Danley Transforms University of Tampa's Bob Martinez Athletics Center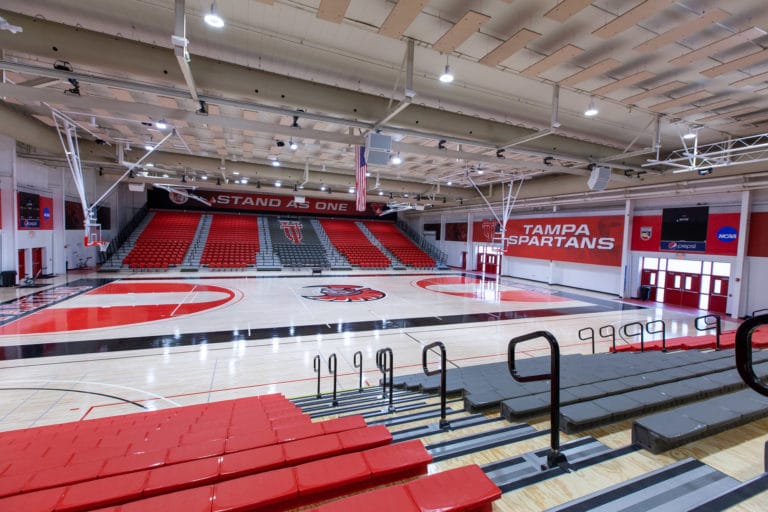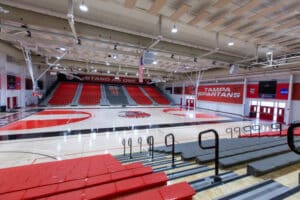 For years, fans flocked to the University of Tampa's Bob Martinez Athletics Center to witness excellence on the court. But no matter how many national titles Spartans supporters and athletes enjoyed – including three NCAA Division II women's volleyball crowns (2006, 2014, and '18) – there was no getting around at least one major disappointment on perennial display at the Bob Martinez Athletics Center: A dud of a sound system.
That is why, when the University of Tampa undertook renovations of the 36-year-old, 3,400-seat arena that the Spartans' men's and women's basketball teams also call home, it opted for a complete overhaul of its audio capabilities.
And when Regional AV integration firm AvTek introduced Spartans athletic department members to Danley Sound Labs components, it was obvious that the University of Tampa had finally found a sound to match the quality of what was happening on the court.
"Over the years, we've had a few sound systems in the Martinez Gym, and they've all been terrible," said Scott Gossen, Senior Project Manager for the University of Tampa.
"Announcements were boomy and indecipherable. You couldn't understand anything that was being said – not the players' names, not the details of a foul, or even that the ref was announcing a foul!
"Honestly, there was almost no point in even making the announcements, which was a shame since we typically have a whole production crew to broadcast the games. At 30 feet, the ceiling is relatively low, and you can tell that someone put acoustic panels in ages ago to try to deal with the echo. If it was helping, it wasn't helping enough."
That was until the combination of Danley Sound Labs and AvTek entered the equation.
Looking for something to crown the renovation, which featured new bleachers, new floor, new exterior entrances, and new lighting, AvTek, located in Clearwater, Fla., designed and installed a high-impact, high-intelligibility sound Danley Sound Labs reinforcement system. The system included Danley SH69 loudspeakers, a Danley BC412 subwoofer, and Danley DNA-series amplifiers.
"The Martinez Center's old system was a poor design for the space," said AvTek Engineer Geoff Alvarez, who had attempted to fix the university's prior problems within the constraints of its old sound system. "It had outdoor speakers, not enough processing, and not enough amplifier channels. I couldn't improve an aspect in one zone without ruining some other aspect in another zone. Shortly after that experience, I heard Danley loudspeaker technology at InfoComm in Orlando. The Danley phase and frequency response was incredible: I could clearly hear every note in the spectrum!"
So, when Alvarez got the chance to completely rebuild the system, he undertook the challenge with relish, looking to banish those awful sounds to a bad memory. Thanks to his time at InfoComm, he also understood that Danley products were the perfect solution. With that in mind, Alvarez modeled the room and came up with a design that leveraged Danley's excellent pattern control to minimize intelligibility-killing reflections.
Alvarez utilized 12 Danley SH69 full-range loudspeakers to cover both sides of the court with three clusters of two speakers per side. He also installed three SH69s that fire straight down from north, center, and south positions above the court. Alvarez employed two 10,000-watt, eight-channel Danley DNA 10k8 Pro amplifiers to power the SH69s. And to generate inspiring low end from a position above center court, there is a bridged 20,000-watt, four-channel Danley DNA 20k4 Pro amplifier to power a beefy Danley BC412 subwoofer.
"From an install standpoint, the Danley boxes were passive, relatively compact for their output, and required only one amp channel per box," Alvarez said. "I felt Danley might provide the long-sought-after solution that was needed at the University of Tampa."
Alvarez used the onboard DSP and model-specific presets pre-loaded in the Danley DNA amplifiers as starting points when he tuned the system, and he used Smaart sound analysis software to time align everything.
The result is a sound experience that not only impresses but also inspires and supports the efforts of those Spartans that pour their hearts and souls into practices and games in the facility. And Danley Sounds technology, combined with AvTek's understanding of the university's needs, make a big difference.
"A lot of our athletes pour a ton of time into their craft outside of formal games and practices," Gossen said. "AvTek installed a tie-in for the students so they can play music through the system from their phones. It's super flexible and makes practicing and hanging out with teammates an even more enjoyable experience."
For Alvarez, it was the culmination of knowledge, products, and opportunity – one of which he is proud to be part of.
"This Danley installation was the easiest that I've ever experienced," Alvarez added. "One amp channel per box; one cable per box; and custom rigging from Polar Focus. (Danley) built custom yokes that bolt each cluster of two together in a u-bracket that bolts to the steel on the gym ceiling. We were also blown away that we had to remove a dozen amplifiers (that weren't even enough) and replaced them with just three amplifiers that are delivering more than enough power to keep the system well below the point at which it would start to sweat. The Danley system just worked as advertised; I look forward to selling another one!"
Judging by the reaction of the Spartans' athletic department, AvTek and Danley have certainly made some new believers.
"Overall, the system sounds amazing. The intelligibility is everything we had hoped for, and our athletes can hear and understand exactly what is being said from on the court. And the musical impact throughout is huge," Gossen said. "Frankly, I feel like AvTek and Danley turned our gym into a nightclub!"
For anyone that has experienced the Danley Sound Labs difference, it is no shock, and yet even Alvarez can't help but still be impressed.
"The Danley system at Martinez Gym is powerful. The BC412 subwoofer in particular is amazing. I've never heard so much output from a single box," Alvarez said. "The gym is over one million cubic feet, and yet you feel like you're in your buddy's souped up car in high school!"
Danley Sound Labs
Experience Danley in Person
Find a local distributor and schedule a live demo with one of our many experienced distributors and sound consultants.