DANLEY UK AND NEURON PRO AUDIO DELIVER HIGH-IMPACT SOUND AT MANCHESTER, UK'S WINTER GATHERING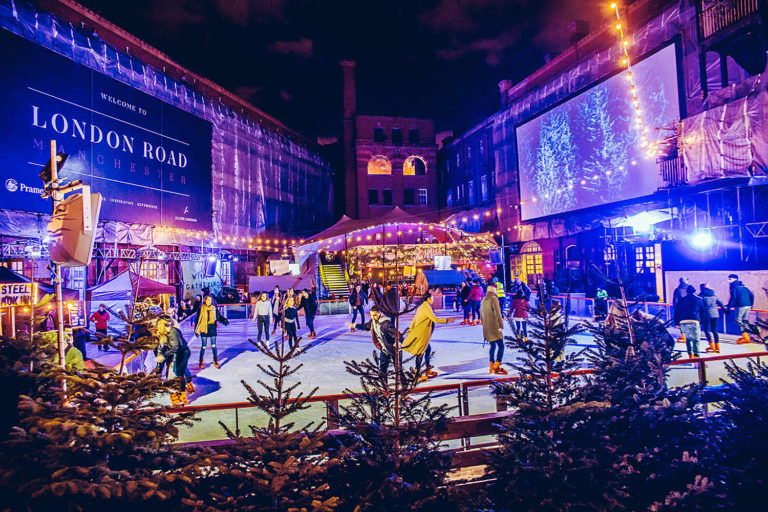 Set up amid the amazing architecture of historic London Road Fire Station in Manchester, UK, the Winter Gathering spans several weeks on either side of Christmas. The decommissioned station fills an entire block and has a massive courtyard at its center, which the Winter Gathering populates with an ice skating rink, live music, and hip concessions and vendors. The live music is a mixture of bands (of all genres), DJ sets, and quirky pop-up acts, like a Mannequin Challenge and a walkabout brass band that performs covers of famous 90s-era dance tunes (including, we're told, all the Manchester acid house classics!). It rents out for private parties as well, including one for the Manchester City soccer team. Local A/V integration and live sound company Neuron Pro Audio delivered impactful sound that didn't spill out to the streets beyond by using a sizable collection of Danley Sound Labs loudspeakers and subwoofers.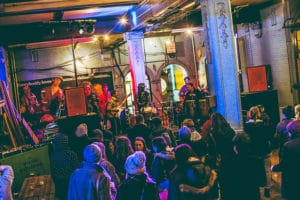 "My business partner Jonny Wharton orchestrated the Winter Gathering contract, through his relationships with several acts and promoters who are involved in both this and other projects around the UK," explained Kyle Marriott, managing director at Neuron Pro Audio. "The brief for the project demanded a very high production value, designed and delivered in a short span of time to meet stringent city center licensing requirements." Elemental Events Limited orchestrated all the events and subcontractors for the Winter Gathering under the direction of Allied London, the large-scale property developer that owns London Road Fire Station.
"As one of our company's main technical people, I advised that we should import Danley equipment via air freight due to its famous sound quality and pattern control," said Marriott. "In addition, Danley would be something a little outside the norm for the area – it has a 'cool' factor. The ability to take the client's preliminary site plans and use them to produce accurate direct SPL plots with Danley's free 'Danley Direct' acoustical modeling software (much more quickly than the competing contractors were able using the 'standard' software packages) also helped us to meet their tight licensing application deadlines and assuage council fears of off-site noise bleed affecting nearby residents."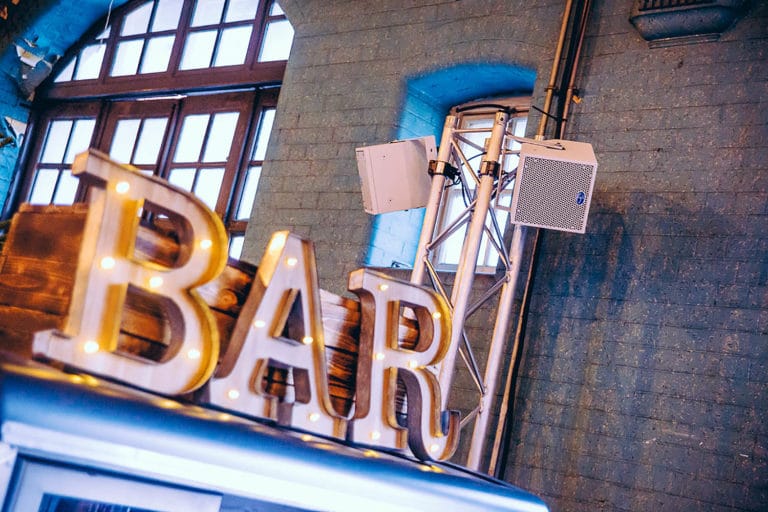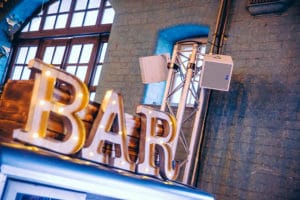 The Danley Direct map/SPL-plot that Neuron Pro Audio produced for their bid actually went into the full noise propagation and control plan – it was a "worst-case" scenario that demonstrated how Danley's exceptional pattern control would constrain noise bleed on the assumption that the firehouse walls were effectively transparent to sound. "That map," said Marriott, "essentially sealed the deal for both the event as a whole and our contract!"
The event uses four zones in total, controlled via a BSS London BLU-160 running a bespoke configuration with auto-gain leveling and timed noise level reductions, with customized BLU-10 touchscreen wall panel for minor adjustments and source selection. Each zone has independent source control and can be fed from one of two background music systems running from iPads or from the music being played on the main stage (either a band or a DJ). Most of the day, the ice rink and outdoor areas run background music only, but both zones can deliver the goods when the band or DJ feed goes live and the goal is to get people dancing!
The main stage uses a stereo set of Danley SH-46 full-range loudspeakers, girded from below by three Danley TH-118 subwoofers per side (six total). The Neuron team chose the SH-46 for its narrow dispersion pattern to help with the sound quality in the long, reverberant space. They aim straight down the narrow room that used to house the fire engines and are time-aligned well with the indoor bar, which is fifteen yards farther down the room. The indoor bar and its associated attractions use six Danley SH-mini loudspeakers mounted to the fire house's original Victorian firefighter poles, along with one Danley TH-212 subwoofer installed against the wall near the bar.
Outside, the ice rink uses four Danley OS-80 fully-weatherized loudspeakers in a classic "quad" configuration (one box per corner of the rink). "These boxes are totally exposed to the elements," said Marriott. "Manchester is well known for near constant rainfall, and therefore frost, sleet, and snow as well. In addition, their proximity to the ice guarantees lower temperatures than the surrounding air. The OS-80s can handle all of it and still sound great." Finally, two Danley SM-80s handle the outside (but covered) bar area. The rink and the outside bar get enough low-end punch from the OS-80s and SM-80s, allowing Neuron to avoid adding subs and risking breaking sensitive sound ordinances.
Danley DNA SC48 processors handle all of the loudspeaker conditioning with presets for each of the Danley boxes. Neuron's fleet of four-channel Powersoft X4 amplifiers runs the entire installation, delivering 5200W per channel with built-in DSP and networking capabilities. The network connects to a remote control system that also controls the BSS BLU platform. A Behringer X32 desk with 2x S16 stage boxes is the engineer's interface for live acts, complete with a full live production case with Sennheiser, Shure, AKG mics (wired and wireless), and Radial DI boxes. Neuron also supplied full backline for each live band to suit rider requirements, as well as a complement of Technics 1210s and Pioneer CDJ2000NXS2s and DJM900NXSs for DJ performances.
"I feel that it is important to ensure that our clients always have the best solution available to them, regardless of budget, and Danley happens to offer exceptional products that help us to achieve that goal with the absolute minimum of fuss," Marriott said. "Compared to other manufacturers, we find Danley systems need fewer boxes, fewer amp channels, a lot less cabling, less EQ, and less 'work' – they sound great with a simple and pure 'point and shoot' configuration. Danley's tight pattern control goes down to lower frequencies than competitors' products, which is incredibly helpful in keeping the sound on site and off the walls without resorting to complex DSP trickery that introduces comb filtering and other nasty sounding things."
Marriott's first encounter with Danley Sound Labs was with Tom Danley himself, via the original ProSoundWeb Live Audio Board and other messaging forums. "In my first days of interest in sound, back in university times, I followed the development and local DIY builds of the infamous LABsub and other esoteric devices with great interest, up to and including the first inklings of the Unity and following Synergy Horn technologies. Some time after Danley Sound Labs was first started, many years ago, I emailed the company directly to see if there was an opportunity to hear the new, exciting products first hand on this side of the pond. Sadly, that was not the case for some time. However, they remembered me as my email address was at the top of the list of potential leads when Tom Drew and Peter Barnard of the new Danley UK arm took on import and distribution!"
He continued, "We are looking forward to a great many more projects in the coming months and years with almost everything Danley have to offer! The relationship is one we are keen to foster and truly expose our clients across the UK and Europe to the purity and clarity of the Danley sound, from the bottom to the top of the frequency range. Also, we have the first permanent UK Danley installation lined up for early January at Rosso Restaurant, which is another beautiful grade II listed building owned by the famous football [soccer!] player Rio Ferdinand of former Manchester United fame. Longer term, we also have the first permanent club installation in the courtyard of a venue called Hidden, again an acoustically challenging space with a strong off-site noise control approach required. Here the plan is to deploy Danley OS-80s and BC-Series subs to keep the sound excellent and loud in the outdoor area, without upsetting the neighbors. And we are also in discussions with some stadiums that are very interested in the green- and budget-friendly nature of Danley systems due to fewer boxes, with better quality at the seats. Exciting times all round!"
Danley Sound Labs
Experience Danley in Person
Find a local distributor and schedule a live demo with one of our many experienced distributors and sound consultants.