DANLEY'S POINT-SOURCE TECHNOLOGY GIVES INTELLIGIBILITY AND IMPACT TO LOCK HAVEN UNIVERSITY'S REVERBERANT THOMAS FIELDHOUSE
Lock Haven, Pennsylvania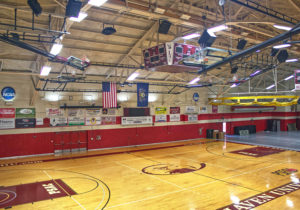 Lock Haven University of Pennsylvania is a member of the state's public university system and serves 4,600 students in the north-central region of the state. Its Lock Haven Bald Eagles compete in the Pennsylvania State Athletic Conference's Divisions I & II. All Bald Eagle indoor sports are played at the Thomas Fieldhouse gym, which was built in 1935. Although it was updated in 1953 and again in 1984, its boomy acoustics really make it sound like the Thomas Fieldhouse gym was built in 1935, which, until recently, put a soggy blanket on the intelligibility of Bo Miller's enthusiastic Lock Haven announcements. All that is now changed with the installation of Danley OS80 point-source loudspeakers and TH118 subwoofers, which deliver great phase-coherent intelligibility and tight pattern control.
Bo Miller is the director of information technology for LHU and – arguably more exciting – the "voice of the Bald Eagles." Miller relishes the latter role and throws everything into his announcements for men's and women's basketball events and for LHU's Division I wrestling matches. "Admittedly, the poor intelligibility of my announcements was a big part of my desire to replace the nearly 25 year-old equipment that was present in the Thomas Fieldhouse gym," Miller said.
"Danley's patented point-source designs offer far superior intelligibility to all the other options that are on the market," said Tyler Hoffman, senior creative at Illuminated Integration the firm that installed the system for LHU and now stands behind it for support. Skip Welch, eastern regional sales manager at Danley Sound Labs and a veteran integrator, designed the system in collaboration with Miller. Hoffman continued, "The old system used numerous front-loaded drivers, coaxial and horn products. It produced a mash of phasing problems. The old system could go loud, but it wasn't clear. Intelligibility was their big problem. Danley was the right choice."
The gym has seating on one side of the court and at both end zones. Three Danley OS80 loudspeakers cover the sideline bleachers and two OS80s cover each of the two end zones. An eighth OS80 fires straight down to cover the court itself. Seven additional OS80s cover a warmup gym, and all of the loudspeakers are placed on zones so they can be turned on or off to accommodate different kinds of events – including graduation ceremonies and different size crowds. Three Danley TH118 subwoofers, one over each section of seating, complete the deployment. Two four-channel Danley DNA 10k4 Pro amplifiers with integrated 96kHz DSP power the system and provide custom presets for the OS80 loudspeakers and TH118 subwoofers.
Once it was installed, renowned acoustician and Danley engineer Doug Jones traveled to the site to tune the system for maximum intelligibility. Despite the gym's tremendous reverb time and overall boominess, the Danley OS80s' focused, phase-coherent audio measured at 0.7 STI with single zones turned on and 0.55 with the entire system engaged. Both measurements are a worst-case scenario because there were no bodies to absorb the down-firing sound. "We were worried that it might just turn into a huge echo chamber given how acoustically challenging the space is," Miller said. "After all, we're in a gym that's really old. But initial testing has shown the design to be sound, and it works quite well."
He continued, "I was also concerned that only having three Danley TH118 subwoofers in the venue wouldn't give the low-end impact I was hoping for, but I have to say, the product and design very much exceeded my expectations. I knew that when I initially chose to go with a Danley system, I was choosing the industry leader in point-source speaker systems, and now I'm positive that I made the right choice. We've worked with Illuminated Technology in the past and they were a great installation partner on this job as well. I know Lock Haven University is a small school with a small venue, but realistically, I think we made a fairly large investment in the future of that venue. I know that it's probably unusual that a public school of our size with this kind of venue would invest so heavily in a PA system, but if my initial impressions are correct, this investment will pay off for us for years to come."
Danley Sound Labs
Experience Danley in Person
Find a local distributor and schedule a live demo with one of our many experienced distributors and sound consultants.