DANLEY'S SPEAKERS AND SUBS CONVEY EVERY NUANCE OF HUNGARY'S LAMANTIN JAZZ FEST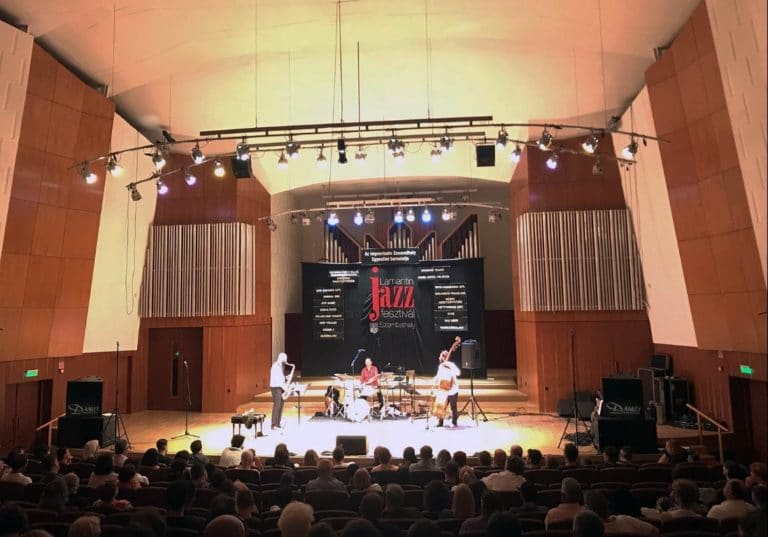 It is the Montréal Jazz Festival of Hungary, a talent-packed week in the ancient and yet forward-thinking city of Szombathely near Hungary's western border with Austria. The Lamantin Jazz Fest draws over 3,000 jazz fans and musicians from Hungary and beyond to watch and perform at the city's best live performance venues. For the past seven years, Penna-Poor, a Budapest-based new high-end audio and high-end pro audio & home theater distributor & integrator that incorporates professional-grade gear into its designs, has provided sound reinforcement equipment for the Lamantin Jazz Fest. Because of their musical sound and incredible detail and fidelity, Penna-Poor brings Danley Sound Labs loudspeakers and subwoofers to the festival.
"The Lamantin Jazz Festival celebrated its nineteenth year in June 2018," explained Peter Danko CEO and owner of Penna-Poor. "As in the past, we were invited to provide the PA systems for the event through our partner, Mr. Laszlo Valik, who served as the chief sound engineer. A young medical student started the festival when he was studying at university. He and his friends loved jazz and started to organize jazz concerts and even a small jazz festival at university. After graduating, the guys moved back to their hometown of Szombathely and carried on there. In 2000, they founded the Workshop of Improvisational Music and organized the very first Lamantin Jazz Festival. Their mission is to get the people in and around Szombathely to know and love jazz and to make the genre accessible. Now nineteen years on, Lamantin has grown into a prestigious week-long festival complemented by the annual Lamantin Improvisation Camp. It's the most complex jazz event in Hungary and its name has become a trademark."
Four venues accommodate between 200 and 600 people each: the club/restaurant of Weöres Sándor Theater, Synagogue Garden, Bartók Hall (the concert hall of Szombathely), and the festival's newest and largest venue, the Agora House of Sport and Culture. Regardless of the venue, the PA setup was the same, with only slight changes in angles and positions. A stereo pair of Danley's flagship SH50s provided full-range content, with low-end support from a pair of Danley TH118 subwoofers. Two dual-channel MC2 S1400 amplifiers powered the system, with front-end signal conditioning and loudspeaker conditioning from an XTA processor.
"We have known for years that Danley's unique loudspeaker and subwoofer designs give the most natural and powerful sound available," Valik said. "The Danley boxes are very sensitive and follow quick transients. It was easy to use the processor to make modest adjustments to match the style of music being performed. In large part because we bring excellent Danley equipment (and in balance because we are reliable and easy to work with), once festivals and concerts find us, they keep asking us to return year after year. The Lamantin Jazz Festival is a great example, and this year was another success."
Danley Sound Labs
Experience Danley in Person
Find a local distributor and schedule a live demo with one of our many experienced distributors and sound consultants.