FAITH BAPTIST BIBLE COLLEGE BELIEVES IN DANLEY GEAR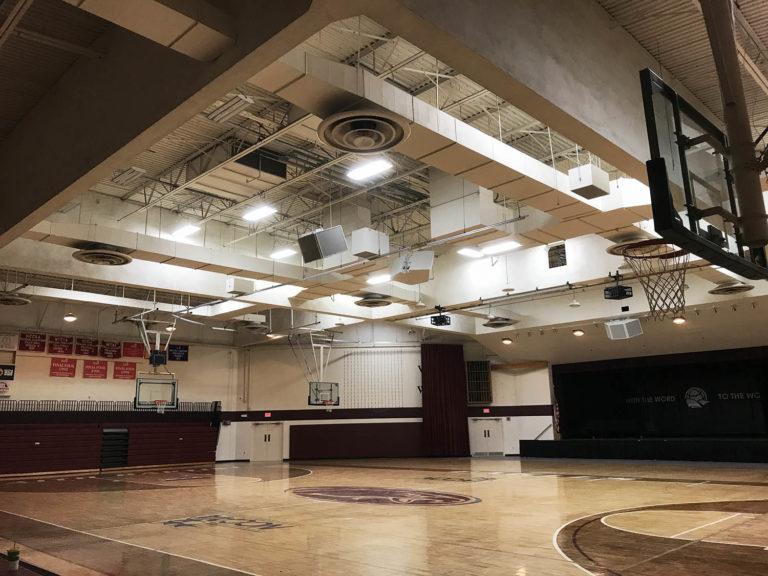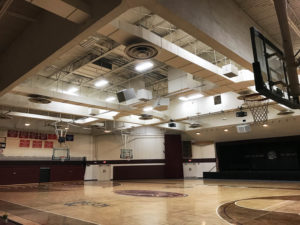 From its cozy campus near Des Moines, Iowa, Faith Baptist Bible College serves a tight community of three-hundred students, providing a Bible-based education with an emphasis on Christian values and ministry. The Faith Eagles basketball and volleyball teams practice and play in the fieldhouse within Nettleton Center. With both sets of bleachers engaged, the games can host up to 1,500 fans. The fieldhouse serves multiple purposes with one side having a platform that is used for daily chapel, concerts, seminars while the other side of the fieldhouse is used for volleyball, basketball and other sports. After putting up with poor sound quality for years, FBBC recently asked AV design and integration firm Sound Specialty Company, of Racine, Wisconsin, to design and install a new sound reinforcement system. Citing their sound quality, longevity, and Christian values, Sound Specialty Company installed Danley Sound Labs loudspeakers and subwoofers in the fieldhouse, and everyone at FBBC is thrilled with the results.
"My dad graduated from Faith back when it was known as the Omaha Baptist Bible Institute, before it relocated to Ankeny, Iowa," said Jeff Saunders, design engineer at Sound Specialty Company. "He later founded Sound Specialty Company. He was back at Faith three years ago for a conference and struck up a conversation with the president. It was apparent that the sound in the fieldhouse where the conference was taking place had too many hot spots and dead spots and the sound quality was not good; the equipment was almost twenty years old. The president agreed, and we set up some exploratory meetings, evaluated the system, and made some recommendations. Faith has a special place in our hearts, and we wanted to do what was necessary to take their system to the next level. PS – my brother also went to Faith."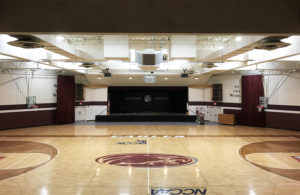 Saunders continued, "Danley was the right choice for Faith. We love Danley's outspoken Christian values, and all of their US-built boxes are so robust and ready for long-term performance. Danley's patented Synergy Horn and Tapped Horn loudspeaker and subwoofer technologies are amazing; the fidelity is unmatched. There's no other manufacturer that offers such value. At Faith, we used Danley Direct modeling software to select from among the different coverage patterns of the different Danley boxes."
After exploring the options, Saunders decided on three clusters of three closely-packed Danley SH50s each. One cluster hangs above the platform. The other two clusters hang above center-court and face in opposite directions to cover both retractable bleachers. 
For services, concerts, conferences, etc., that set of bleachers is removed. In addition, a Danley SH100F fires straight down above either side of the court (two SH100Fs total), and a single Danley TH118 subwoofer flown between the court clusters reinforces the low end.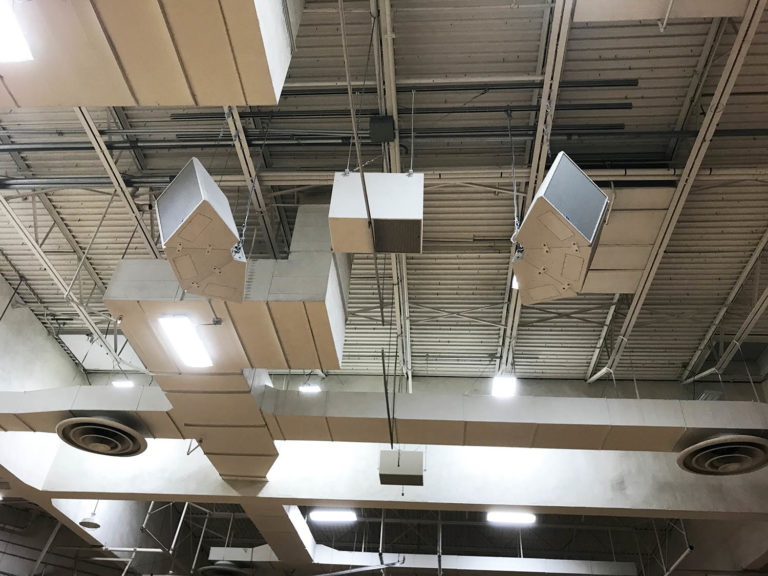 Six different presets give FBBC all the flexibility it needs for the various events that occur in the fieldhouse: (1) just the platform cluster, (2) just one half of the cluster at the center for lightly-attended events, (3) the platform cluster and the court cluster that faces in the same direction for large podium-based events, (4) everything except the platform cluster for games, (5) everything except the platform and the down-firing SH100F's for games, and (6) everything except the platform but with one of the court SH50s turned down to prevent announcer feedback. "The upgrades in the gym were long overdue," said Christopher Ellis, registrar and director of online learning. "Sound Specialty Company helped us with a flexible solution that can handle all of the different events we hold in the facility. From concerts to conferences to sporting events, we have the sound capabilities that we need to cover everything." Powersoft amplifiers drive the system, with control and DSP from QSC Q-Sys using an Apple iPad.
After installing the system, Saunders returned with legendary acoustician and Danley engineer Doug Jones to make the final tweaks that make every word intelligible and every note well-balanced and sonorous. The faculty and staff at FBBC are overjoyed with the result: "I'm impressed with the upgraded system," enthused Brandon Fritz, dean of students. "Regardless of the activity happening in our gym/auditorium, the sound quality remains very clear and full." Brian Fincham, athletic director and head men's/women's basketball coach added, "The new system has taken our events to the next level. No matter what we are hosting, the newly-installed equipment ensures we will be able to exceed expectations in terms of quality and performance."
Danley Sound Labs
Experience Danley in Person
Find a local distributor and schedule a live demo with one of our many experienced distributors and sound consultants.