FIRST BAPTIST CHURCH OF MANCHESTER, TENNESSEE UPS IT SERVICES WITH DANLEY SPEAKERS AND ASHLY POWERED DANTE CONNECTIVITY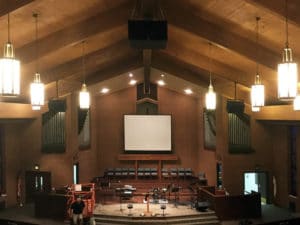 Like many contemporary churches, First Baptist Church of Manchester, Tennessee has undergone a transformation in the style and energy of its services. Years ago, services centered on sermons augmented by music played by organ, piano or choir. Thus, in a room that seats nine hundred, the demands on the sound reinforcement system were rather light. But that has changed – and dramatically. These days FBC punctuates sermons with a full band comprised of rock 'n roll instruments. The church's old sound reinforcement system couldn't keep up! Audio/video integration firm Centerline Audio Visual, of Hendersonville, Tennessee, stepped in to design simple, yet powerful, stereo reinforcement consisting of two Danley SM-100B full-range loudspeakers buttressed from below by a Danley BC-218 subwoofer, with Ashly Audio nXp-Series network multi-mode amplifiers providing power, integrated DSP, and Dante connectivity.
"The architecture of First Baptist's sanctuary is a little different," explained Scott Oliver, Centerline AV president. "It's not a box. The roof is pitched, and the room itself is a trapezoid; it's about ten feet wider at the back than at the front. The Centerline philosophy is always to use as few components as possible because there's generally a trade-off between the number of components and the resulting sound quality. More boxes can help with coverage when necessary, but it almost always comes at the expense of sound quality. For First Baptist, we gave them just about the simplest system you can imagine: a pair of Danley SM-100B loudspeakers and a single Danley BC-218 subwoofer."
The SM-100Bs hang at a steep angle above either side of the stage, and the time-aligned subwoofer hangs from the center of the ceiling, approximately one-third the way back from the front of the room. Centerline's Greg McDougald managed the project, and Barlow Harlin of Harlin Technical Services, of Bowling Green, Kentucky, handled all the rigging.
An Ashly nXp3.04 amplifier and an Ashly nXp4004 amplifier power the new system. Each amplifier provides four channels, with the nXp3.04 rated at 3,000W per channel and the nXp4004 delivering 400W per channel.  Oliver opted for onboard Protea™ DSP and a Dante™ network card for each amp. "We love working with Ashly," Oliver said, "in part because they have such an extensive catalog of products. We can find just the right power, channel-count, onboard processing, and connectivity to suit any particular job. At First Baptist, Dante connects all of the system components." A Soundcraft SI Performer console serves as user control for the new system, with an Allen & Heath ME-System for in-ear monitors.
The system is already successful despite a lack of acoustical treatment, which is slated to occur some time in the next year. For now, it's brick walls and nothing but. "Danley's famously steep pattern control keeps sound off the walls to a large extent," Oliver said. "That helps a lot with intelligibility and musical impact. And the Danley SM-100B is an especially gorgeous-sounding box. It's amazing that two of them are more than able to cover a nine hundred-seat room: it only has a single coax driver for the mid and high frequencies! It's a bit like our design philosophy: keep it as simple as possible. By not overcomplicating the system, it's more effective, less expensive, and easier to maintain. Importantly, those benefits come with zero compromises."
Danley Sound Labs
Experience Danley in Person
Find a local distributor and schedule a live demo with one of our many experienced distributors and sound consultants.