FRANKLIN HIGH SCHOOL GETS BROADWAY-QUALITY SOUND USING DANLEY SOUND LABS LOUDSPEAKERS, SUBWOOFERS, AND STAGE MONITORS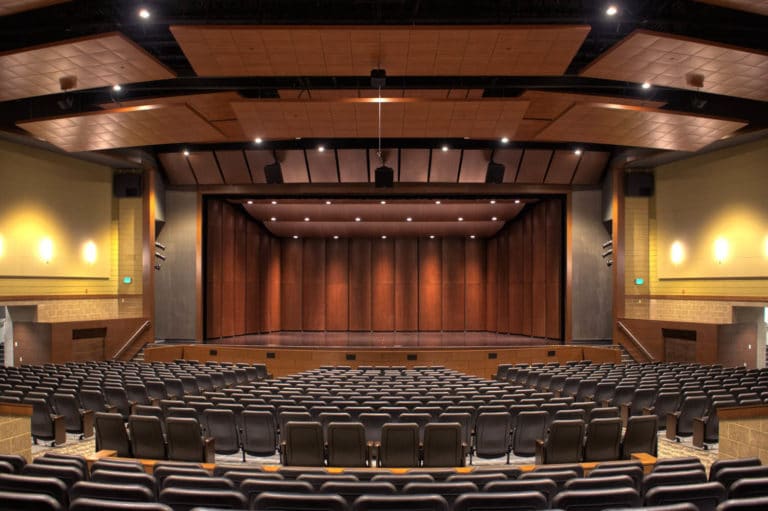 Franklin High School in Franklin, Wisconsin recently seized the opportunity to build a proper fine arts auditorium, both for use by its rapidly-growing student body (currently 4,300 students) and for use by the larger Franklin community. The new 25,000 square-foot, 850-seat auditorium propels the school to the cutting-edge of live performance technology and infrastructure, not the least of which is an impressive Danley Sound Labs sound reinforcement system. An exploded left-sum-right configuration of Danley SH-60 full-range loudspeakers deliver point-source fidelity and imaging, while two beefy Danley TH-212 subwoofers ensure that all low-end content is appropriately moving, figuratively and literally. Four Danley SM-LPM molded loudspeakers serve as high-fidelity stage monitors.
Professional Audio Designs of nearby Wauwatosa, Wisconsin had worked with Franklin High School several times in the past, and the school contacted them again for this ambitious project. "They wanted an excellent sound system for the new auditorium," said Scott Leonard, vice president of Professional Audio Designs. "Because we got involved early, we were able to work with the architect to optimize the acoustics. Of course, we still had to meet a budget, which applied both to the equipment and to the room's acoustical treatment. Using Danley loudspeakers and subwoofers was an important part of our success in all respects."
He continued, "One of the critical specifications we had to hit was good gain-before-feedback because the school anticipated live performances with many open wireless mics. The Danley Synergy Horn technology provides even coverage within its beam width and both a sharp and uniform drop-off outside that beam width. Moreover, that drop-off extends deep into the frequency range, which helps achieve a more natural sounding vocal, even with a less experienced operator. I'm pleased Danley gives me an alternative to line arrays, which with enough boxes can provide adequate pattern control but at a much higher cost."
A Yamaha CL-3 console gives the school recallable control of its inputs, and a Symetrix Radius DSP with an xOut 12 expander provides the necessary processing. A Crestron control system ties together all the audio, video, and lighting components. QSC CX-series amplifiers power the system. In addition to the three Danley SH-60s and the two Danley TH-212 subwoofers, which provide the bulk of the coverage, three Danley SM-96 loudspeakers form a delay ring. The delay ring is supplemented by four Fulcrum P loudspeakers, and six Innovox SL-1.1 loudspeakers provide front fill. The superior fidelity of the four Danley SM-LPM stage monitors inspires great performances.
"I love the Danley Synergy Horn technology," said Leonard. "Even though they're horn loaded, with all the acoustic benefits that entails, they don't sound like horns. And even though they may be a bit more expensive than other similarly-sized boxes, they are passive and don't require bi-amping. Ultimately, that's a cost savings. And on top of the pattern control the system sounds great. During system tuning the technical director was thrilled with the immersive quality of the system and audience members at Franklin High School will get the same sound experience they would get at a professional Broadway theater!"
Danley Sound Labs
Experience Danley in Person
Find a local distributor and schedule a live demo with one of our many experienced distributors and sound consultants.