HISTORIC YMCA OF THE ROCKIES REACHES THE SUMMIT WITH DANLEY LOUDSPEAKERS AND SUBS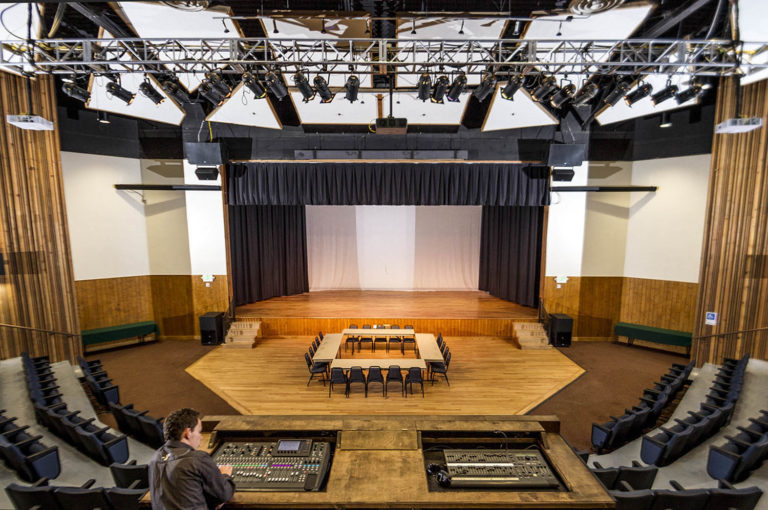 Nestled amid the towering peaks of the front range in Estes Park, Colorado and surrounded on three sides by Rocky Mountain National Park, the YMCA of the Rockies is as beautiful a place to have a conference, reunion, or getaway as one can find this side of the Pearly Gates. And those conferences, reunions, or getaways need not be small by any stretch; the sprawling grounds include nine hundred lodging rooms and nearly sixty meeting rooms, including the six hundred-plus-seat Walter G. Reusch Auditorium. Recently, Sight and Sound Technologies (Colorado Springs, Colorado) replaced the auditorium's aging sound reinforcement system with new, crystal-clear, high-impact Danley Sound Labs loudspeakers and subwoofers.
"When I told her I was replacing a sound system at YMCA of the Rockies, my mom got excited because she had gone to camp there when she was young," said Kris Johnson, COO of Sight and Sound Technologies and the lead designer and installer on the project. "The place has a lot of history! This project arose because the facility had some money allocated to update the auditorium with new floors, new chairs, new lights, new sound, and new video. We helped with the last two items."
As it happened, YMCA officials had already been considering a Danley system for the Reusch Auditorium. "They had rented a smaller portable Danley system for an event in a smaller room, and they were blown away by its clarity," explained Johnson. "And even after we had settled on the design for the new system, they wanted the speakers shipped directly to them to use for an event before we could fly them!"
He continued, "I agreed with their preference – other companies had been pitching them line array solutions, but I felt that they wouldn't compare to the pure phase-coherence and steep pattern control of Danley's innovative point-source designs. The room is steeply sloped, and I knew that a Danley SH-96 could cover almost all of the seats without the comb filtering of a line array." Engineers at Danley came up with a design for Johnson, who tweaked it and then ordered the necessary components.
Two Danley SH-96s flown at each end of the 25-foot stage deliver stereo coverage for most of the room. Underneath each, a smaller Danley SH-95 provides modest front-fill. Two Danley TH-118 subwoofers round out the low end from the floor, one on either side of the stage. The YMCA's building and grounds department will build enclosures for the subwoofers to protect them from people walking past. One beefy four-channel Danley DNA 20k4 Pro amplifier powers the SH-96s and subwoofers, and a smaller four-channel DNA 5k4c amplifier powers the SH-95s. A Yamaha MTX3 processor provides front-end processing and routing logic, and on-board processing on the Danley amplifiers provides loudspeaker conditioning. An existing Beringer x32 mixing console serves as the operator control for the whole system.
In addition to the sound system, Sight and Sound Technologies added an Atlona Video matrix switcher, three Hitachi projectors, and two Da-Lite electric side screens. The existing center screen was still in excellent shape. However, to facilitate control of the entire system, Johnson relocated its controls to the FOH position, where all of the sound, video, and lighting controls now reside.
"They love their new Danley sound system," said Johnson. "I was playing some music I was familiar with when I tuned it up. They got excited and asked to play their own music, and of course I obliged. Everybody had the biggest smile; they were loving life!"
Danley Sound Labs
Experience Danley in Person
Find a local distributor and schedule a live demo with one of our many experienced distributors and sound consultants.