HOSANNA LUTHERAN CHURCH GOES HI-FI WITH DANLEY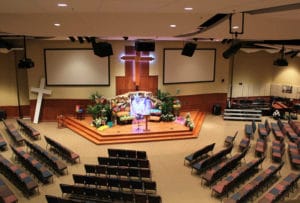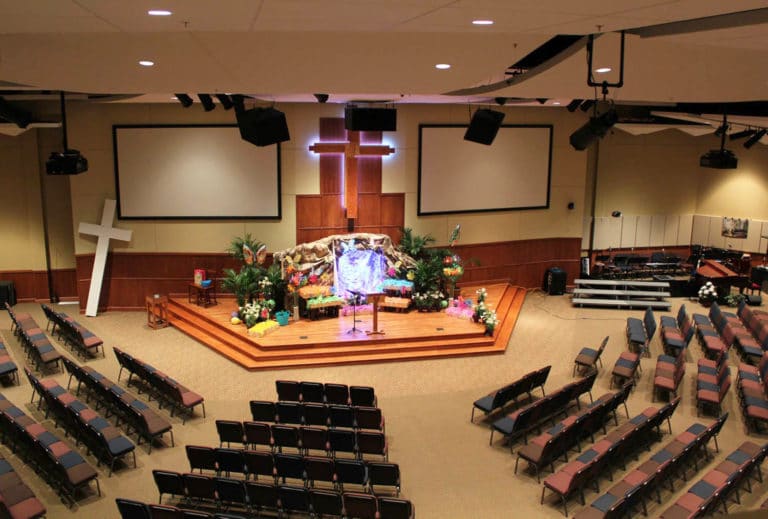 Growing with the community since its founding in 1972, Hosanna Lutheran Church is now a cornerstone of religious life in Mankato, Minnesota. With four contemporary services a week, plus one traditional service and plenty of high-SPL youth events, its sanctuary sound and video systems were tapped to provide a huge range of content. Despite having loudspeakers made by a respected manufacturer, intelligibility and low-end extension were poor and a regular source of complaints until recently, when Audio Video Electronics (AVE) (Maple Grove, Minnesota) renovated the system. Citing their excellent fidelity and intelligibility, AVE installed a pair of Danley Sound Labs SH-60 loudspeakers. To give Hosanna Lutheran Church plenty of bass when needed, AVE also gave the church a beefy Danley DBH-218 subwoofer.
"Before AVE's renovation, we always had complaints," said Matt Kotthoff, technical director at Hosanna. "The system was muddy, and a lot of our disciples, especially some of the senior members, had a hard time understanding what was being said depending on where they were sitting. Also the system lacked intelligibility and power."  Stefan Svärd, president of AVE, added, "Not only that, the low-frequency extension was simply missing. This was despite its big name components and the fact that it looked like a good system on paper. It simply didn't translate to real-world performance."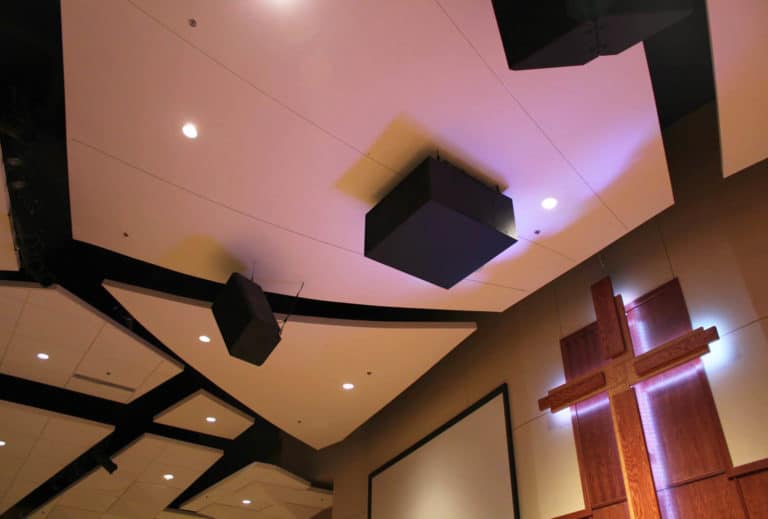 Svärd designed an elegantly simple new sound reinforcement system for Hosanna. An exploded mono cluster of two Danley SH-60s leverages Danley's excellent pattern control to cover all of the seating without energizing the rest of the structure. Between them, also on the ceiling, is the Danley DBH-218 subwoofer. Svärd repurposed Lab.gruppen C-series amplifiers for the mains and added a Lab.gruppen FB14000 for the subwoofer. An existing Biamp Nexia and EV-DC1 processor condition the system, albeit less now than with the previous components, as the Danley boxes are naturally flat and transparent. A new Midas Pro 3 mixer gives Kotthoff and his techs control of the system for complex services, and a Crestron control system provides simple control of audio, video, lighting, and HVAC via iPad or iPhone. Finally, a new 8000lumen Digital Projection HD projector gives the congregation crisp imagery.
"I've had a lot of experience with loudspeakers from all sorts of manufacturers," said Svärd. "To me, Danley's unique designs offer the smoothest, most 'studio-monitor-like' performance in the sound reinforcement market. They have accurate phase response, great pattern control, and true hi-fi sound. The Danley DBH-218 subwoofer delivers a lot of clean output, and because it's horn-loaded, it affords a degree of pattern control. For the youth services, they have that subwoofer shaking the whole building! Together, the whole system sounds phenomenal."
Kotthoff agrees, "The Danleys sound great! Everything sounds crisp, clear, and clean. Nothing sounds harsh or painful. The intelligibility in the whole worship space is outstanding, everything from feeling the bass guitar rhythm to the clear natural sound of both singing and speaking voices. The DBH-218 subwoofer is awesome, every chance I get I love to crank the kick drum and feel the beat go right through me! I have received so many compliments, from 'the audio is so clear' and 'now that's an HD presentation' to things like 'I got bass in my butt!' and 'can you turn it louder?' The system is amazing! It totally enhances Hosanna Lutheran's strong music ministry in so many ways!!"
Danley Sound Labs
Experience Danley in Person
Find a local distributor and schedule a live demo with one of our many experienced distributors and sound consultants.