IT'S ALL DANLEY (EVEN AMPS) FOR LEGENDARY CARVER-HAWKEYE ARENA AT THE UNIVERSITY OF IOWA
Constructed in 1983, the 15,400-seat Carver-Hawkeye Arena is home to the University of Iowa Hawkeye basketball, wrestling, gymnastics, and volleyball teams. It also hosts big-ticket concerts (Whitney Houston, Metallica, and Guns N' Roses, to name a few), graduation ceremonies, and speeches (including Jimmy Carter, Bill Clinton, Desmond Tutu, and Jane Goodall). Its unique architecture makes good use of the earth. Most of the seating is subgrade, which makes entering the arena a thrill in itself. And the arena pioneered the use of geothermal heating and cooling to keep fans comfortable. Recently, the Carver-Hawkeye Arena joined the University's 70,000-seat Kinnick Stadium by deploying a full Danley Sound Labs sound reinforcement system with huge benefits to fidelity, coverage, and visceral impact.
Larry Lucas of Anthony James Partners, of Richmond, Virginia, designed and commissioned the new Danley system, with assistance from legendary acoustician Doug Jones, who is now a member of the Danley team. The same duo was responsible for the recent Danley upgrade at Kinnick Stadium, which now employs a massive Danley Caleb Horn to cover most of the seating. Parsons Electric, of Minneapolis, Minnesota, capably handled the install at Kinnick and thus secured the bid at Carver-Hawkeye Arena.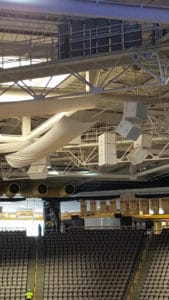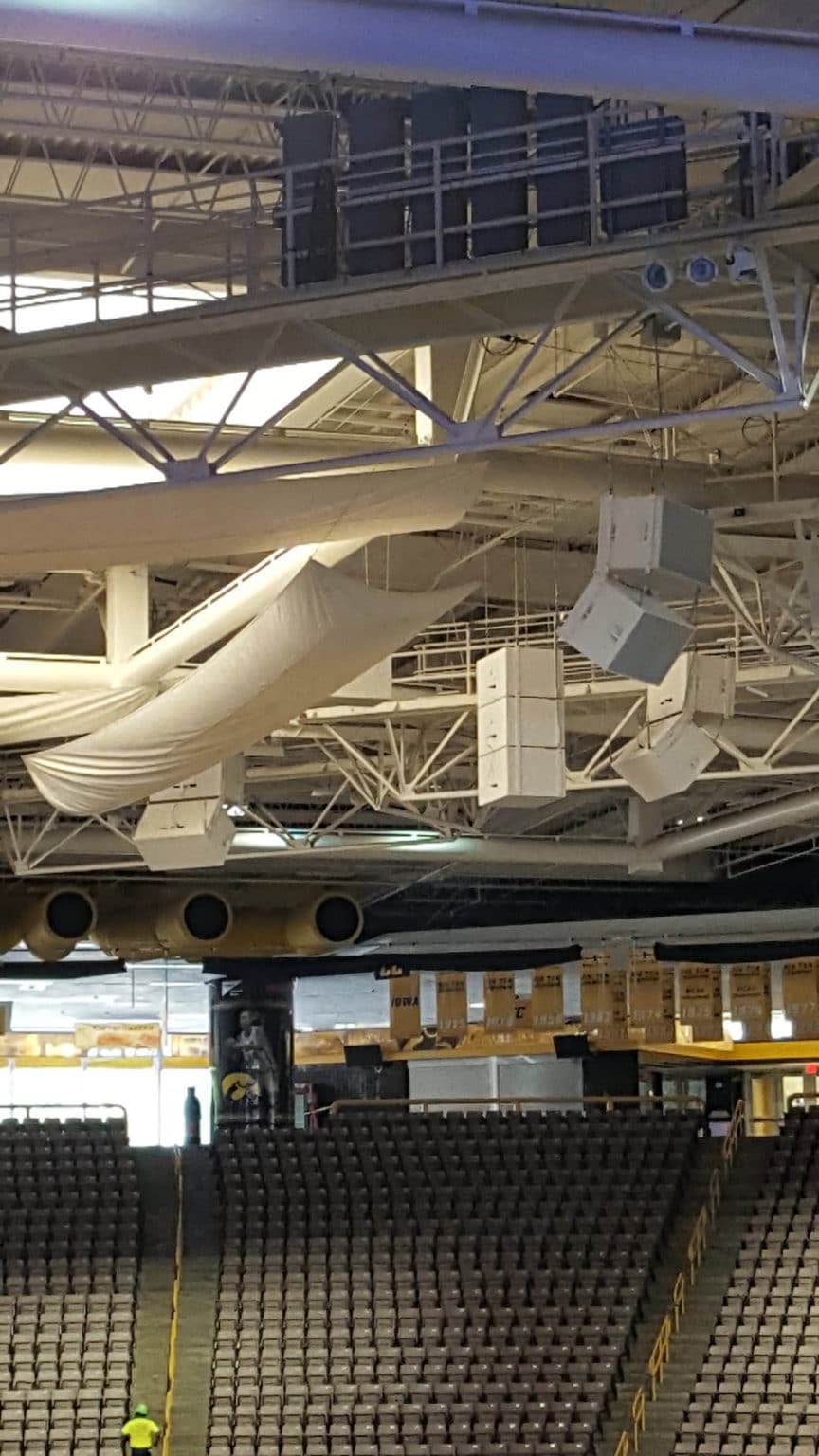 "Amazingly, Carver-Hawkeye Arena managed to get by with the original installed sound system for over thirty years!" explained Dave Potts, veteran field systems engineer at Parsons Electric. "But that was obviously dated technology. They were hoping for much better intelligibility, greater musical impact, and better user control. The new system gives them all of that, and we managed to pull the old system out and put the new system in in just six weeks! That included pulling new cable and negotiating a bunch of other contractors (they were replacing the scoreboards and making other renovations at the same time!) For a while, we had to work around fourteen boom lifts, cranes, and crane trucks on the floor – only five of which were ours!"
Eight loudspeaker clusters ring the floor to cover the main bowl of Carver-Hawkeye Arena. Two of the clusters use a pair of Danley SH-96HOs each, and the remaining clusters use a pair of Danley SH-96s each. In addition, two clusters of three Danley TH-118 subwoofers each provide tight low-end support. Two additional Danley SH-96s fire straight down at either end of the basketball court to cover the floor. Ten Danley SM-80s create a far ring to deliver delayed coverage to the upper bowl. Finally, Parsons Electric reconditioned existing speakers and their wiring in the concourse, separating them into eight unique zones and applying delay to time align them with the rest of the system.
Fourteen new four-channel Danley DNA 20K4 Pro amplifiers provide 280,000W of clean, efficient power to the system, along with comprehensive signal processing facilities for loudspeaker conditioning. A QSC Q-Sys DSP system gives Carver-Hawkeye Arena complete control of presets for different types of functions – including the ability to turn individual clusters on or off to scale to the size of an event – via an intuitive GUI that contains other vital system controls.
"AJP and Danley really nailed the design at Carver-Hawkeye Arena," said Potts. "I've done a ton of these type of arenas, and at first I was skeptical about whether we'd hit all the close seats with these angles. But Danley's pattern control is really well defined, and Larry [Lucas] and Doug [Jones] were able to dial everything in so that the system covered precisely to the points they required. The boxes themselves sound great; even before we dialed anything in, the intelligibility and impact were there. Of course, we listened critically and notched out a few problem frequencies that were interacting poorly with the room, and it became all the better. Once we had the delays and concourse system time-aligned, the whole system worked together as one unit, regardless of overall volume. I challenge anyone to walk into Carver-Hawkeye Arena and not come away impressed by the intelligibility and impact of its new Danley system."
Danley Sound Labs
Experience Danley in Person
Find a local distributor and schedule a live demo with one of our many experienced distributors and sound consultants.