IT'S ALL DANLEY FOR CALVARY CHAPEL MELBOURNE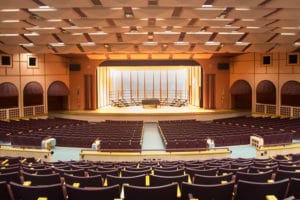 As it heads into its third decade, Calvary Chapel Melbourne (CCM) has grown from a handful of believers assembled in a hotel conference room to a mega-church that serves over 10,000 members with three campuses spread across east-central Florida. In addition to its main campus in West Melbourne, CCM operates an 1,100-seat location in Sebastian River High School's auditorium and a 1,099-seat, purpose-built sanctuary in Viera, Florida. Beginning with the commons area at its main campus, CCM has been turning to natural-sounding, well-controlled Danley Sound Labs loudspeakers and subwoofers and, in many cases, powerful Danley amplifiers and DSP to convey the full high-energy dynamics of its services.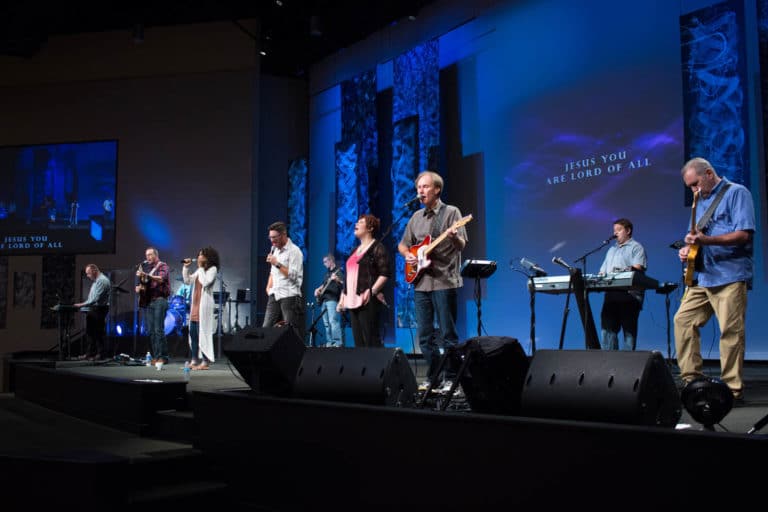 "I've been impressed with Danley's philosophy and products for some time now," said CCM Associate Audio Engineer David Hoover. "I got into pro audio via the hi-fi world of home stereos and car audio systems, and for so long I wondered why no one could deliver that kind of quality in a large-scale commercial sound system. Then Danley came along and totally changed the playing field. Danley's unique designs give my mixes depth, dynamics, and effortless output that conventional designs, including line arrays, can't touch. CCM Senior Audio Engineer Caleb Luper has described our new Danley systems as having a wall removed between the source instrument and the listeners. Music and spoken word sound real and full of life, and Danley's even-response across the coverage pattern makes every seat include an incredible experience."
CCM's Danley conversion began with the 80ft x 80ft commons area outside its main campus sanctuary. Hoover designed a powerful system composed of four Danley SM-60F loudspeakers, one each in each of the room's four quadrants. They fire straight down so that any reflections get absorbed by the ceiling tiles. Although the SM-60F puts out respectable bass on its own, Hoover gave the system abundant low end with a single Danley DBH-218 subwoofer flown in the center of the room. Three SH-Micros and an SBH-10 cover the balcony areas with no spillover. Sufficiently impressed, he purchased a pair of Danley SM-80s for his personal outreach system.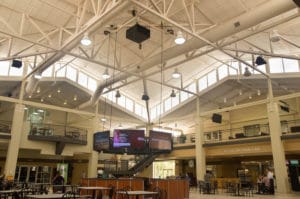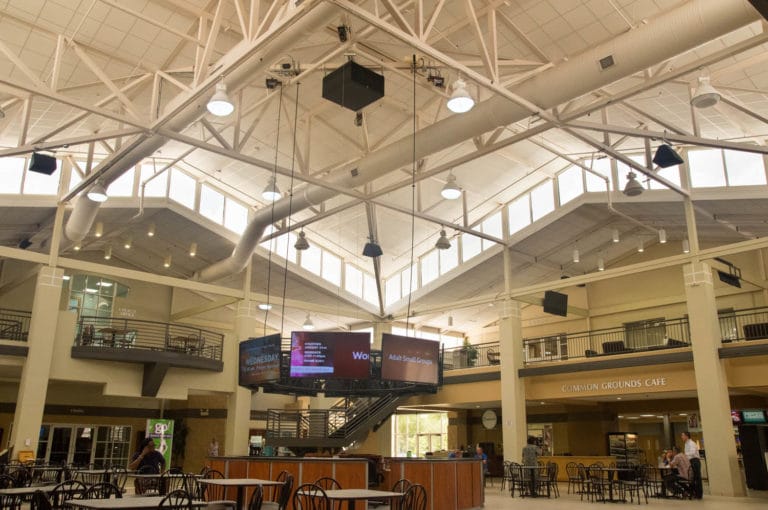 "The leadership loved the new commons area sound, but they're understandably skeptical about claims that company X has made a better mousetrap that we need to buy right away!" Hoover said. "The turning point was one day when I had my own SM-80s up in the main campus sanctuary. Although they have tremendous output, the SM-80s are very small, and Luper [our supervisor] came in and rolled his eyes at me. He said, 'alright, let's hear what they can do.' So I fired them up and the output was so huge relative to their size that he thought I was playing out of the sanctuary's installed system. He said, 'I know what our system sounds like; let's hear those little Danleys!' I told him that he was hearing those little Danleys and his jaw dropped. That opened up the leadership's eyes – and ears – to Danley's synergy horn technology."
When Sebastian River High School announced plans to renovate the sound system in its auditorium – the same auditorium that CCM uses every Sunday – they deferred to CCM's expertise to design and oversee the installation a system that would serve the school and the church well. As it is with most Danley installations, simplicity is a big part the new system's success: a stereo pair of Danley SH-96 loudspeakers cover the entire auditorium with two floor-mounted Danley TH-118 subwoofers for low-end oomph. QSC PLD-series amplifiers power the SH-96s and a Crown XTi 6000 powers the subwoofers. A repurposed DBX DriveRack 4800 provides modest processing.
The Danley system at Sebastian River was a resounding success; everyone involved with CCM was happy to have such impactful music and articulated spoken word. The school was equally pleased. In fact, the great quality of the Danley system at Sebastian River effectively held a magnifying glass up to the shortcomings of the existing system at the Viera campus, which suffered from uneven coverage. In the spirit of due diligence, CCM's leadership called for a shootout to determine the best path forward at Viera. A pair of Danley SH-96s and a Danley BC-415 subwoofer went up against three other systems, including the main campus's 28-loudspeaker, 12-subwoofer line array system. "The Danley system won by a mile," Hoover reported. "The sound quality was considerably better, and those two boxes could move a tremendous amount of air. A single Danley BC-415 was louder than all twelve of the existing subs, and the BC-415 had much better extension and sound quality."
With that clearly settled, Hoover designed a new Danley system for Viera using Danley's free Direct modeling software. "Direct is amazing," he said. "It is intuitive and fast, and I quickly came up with a good design that I bounced off Joseph White from TechnoMedia [the firm that installed the system at Sebastian River] and Danley's Chad Edwardson. To my amazement, we put the system up according to the model, including all the delays and angles, and we didn't have to adjust a thing! That's unheard of! It saved us a lot of time and work."
The system is comprised of four Danley SH-96s in an exploded R-L-R-L cluster, which gives every seat in the sanctuary plenty of stereo excitement. Two (yes, two!) flown Danley BC-415 subwoofers deliver earth-shaking bass. Two Danley SM-80s provide down fill, while two Danley SM-96s provide delays for the commons area. QSC PLD-Series amplifiers power all of the full-range boxes, and two Danley EDA 12000 amplifiers power the subwoofers. A Danley DSLP48 processor conditions the system. "The Danley processor had every tool that I needed and it was super easy to connect to," said Hoover. "Moreover, it's been absolutely solid – not a blip or a disconnect or anything." CCM Associate Audio Engineer Anthony Duran, who engineers front-of-house at our Viera campus concludes, "Even if we had an unlimited budget, we could not have found a better system for our room. In my eleven years of live audio, I've never had a better FOH experience."
Finally, CCM purchased a mobile Danley system for outreach events comprised of two Danley SM-80s and two Danley TH-118s. "Our Sebastian campus recently had an event with five bands and a semi-stage that attracted over 800 people," Hoover said. "I really got to open the Danleys up, and I had things at 100dBA… That's outside, with just two loudspeakers and two subs! We used to rent a line array for these kinds of events, but the Danley boxes are so affordable that they've effectively paid for themselves after a few uses. And on top of that, of course, it sounds way, way better!"
Danley Sound Labs
Experience Danley in Person
Find a local distributor and schedule a live demo with one of our many experienced distributors and sound consultants.