IT'S ALL DANLEY FOR FIRST MISSIONARY CHURCH'S NEW FLEXIBLE "TRADITIONAL-TO-CONTEMPORARY" AVL SYSTEM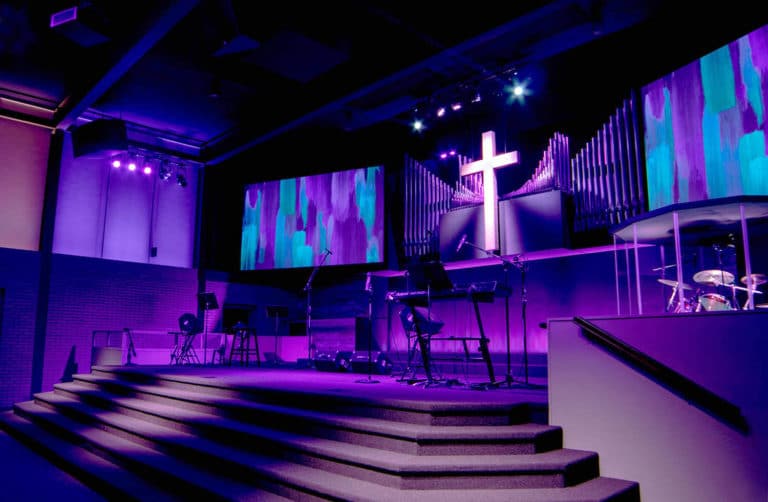 The history of First Missionary Church in rural Berne, Indiana stretches back to the late 1800s, and it has thus been a permanent fixture on the cultural landscape for even the oldest Berne residents. This rich and cherished history created tension as First Missionary Church sought to update the style of its services to retain and attract the next generation of Berne churchgoers. At the church's request, A/V integration firm Custom Sound Designs (CSD) of Fort Wayne, Indiana, stepped in to offer a solution that would allow its 600-seat sanctuary to transform at the touch of a button between traditional and contemporary service styles. Integral to that solution was a new Danley Sound Labs sound reinforcement system that delivers the intelligibility and clarity required of the traditional service and the punch and volume required of the contemporary service.
"First Missionary Church was in the very unenviable, but also very typical position, of many historical churches: they wanted to update but they didn't want to alienate," explained Adam Henderson, sales and marketing manager at CSD. "Their history is deep: many church members are second or third generation! Broadly speaking, the older members aren't interested in volume. They want to clearly hear what's being said and they want to hear themselves sing. For those with hearing aids, lots of low end kills intelligibility. On the other end, the younger set wants volume and punch because the contemporary worship instrumentation really demands it. Our solution was to build a system where the video and lighting could switch between the two styles and where the audio system could deliver volume, punch, and crystal-clear intelligibility."
He continued, "The audio component was challenging because First Missionary Church has a deep, rectangular sanctuary. Part of our solution involved acoustically treating the most reflective structural elements. The rest of the solution relies on the great pattern control of Danley loudspeakers, which keeps energy on the seats and off the walls and ceiling. Moreover, Danley is famous for great definition and intelligibility, which is essential for both worship styles and tremendous punch and SPL, which is a requirement for the contemporary services." First Missionary Church is big on live music and has a traditional choir, piano, organ, and – point of pride – a handbell choir. Its contemporary services rely on modern instrumentation.
The sound reinforcement system CSD designed is straightforward. A left-center-right array covers most of the seating and is comprised of two Danley SH-96 loudspeakers for left and right and a Danley SH-60 loudspeaker for the center. A single Danley DBH-218 subwoofer provides abundant bass (when needed!). Three Danley SM-60 loudspeakers, also in a left-center-right configuration, cover a small rear balcony. A four-channel Danley DNA 20K4 Pro amplifier/DSP handles processing and amplification for the main system, and a smaller four-channel Danley DNA 5k4c amplifier/DSP handles processing and amplification for the balcony system. The church kept its existing FOH console.
"I think this project hits a sweet spot in several ways," explained Mike Hedden, president of Danley Sound Labs. "It's an existing facility that wants to maintain a connection with its past as well as its future. This kind of project is more common than entirely new construction, and CSD's installation meets the needs of the church without looking like a bad music store DJ install. I think this project also illustrates one of Danley's core benefits: scalable acoustic horsepower that doesn't destroy sightlines. I think technology should be like a good recipe; if one ingredient really stands out, you probably used too much. If we all do our jobs right, they really don't notice – they just know they enjoyed it! And of course, through that, lives can be changed by hearing God's word."
"This was an especially cool project for me since I grew up in the area and had attended this church several times," said Henderson. "Everyone at First Missionary Church is thrilled with the renovation – it really does what they need it to do!"