ONE DANLEY J1-94 JERICHO HORN COVERS NEW THOMPSON HIGH SCHOOL FOOTBALL FIELD
Alabaster, Alabama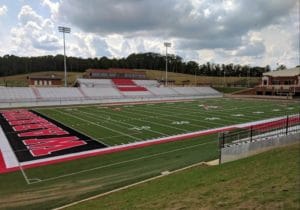 Located on the south side of booming Birmingham, Alabama, the city of Alabaster has seen a lot of growth in recent decades. Its previous local high school was built in 1986 for at most 800 students back when the city's population hovered around 10,000. In its last year of service, the high school struggled to serve well over twice that number, and the city's population has more than tripled. All of that growth and crowding inspired a $68 million project to build Thompson High School, a new state-of-the-art education complex that will handle the 2,200 students projected within the next decade. Included in that complex is a 5,500-seat football stadium complete with a Danley J1-94 Jericho Horn for full-fidelity, high-impact music and announcements.
"They really went all-out to build a great football stadium at Thompson High School," said LaDon Findley, division manager of Encore Technologies, the local AV integration firm responsible for the design and installation of the new sound system. "They have a big Daktronics scoreboard, and we were able to mount a Danley J1-94 Jericho Horn on top to cover the field and both sides of the stands for a single, point-source system. From an acoustics standpoint, that's ideal, and the Jericho Horn has plenty of power to cover every seat in the stands."
Findley continued, "True full-range sound is a big deal for live sporting events these days, and it's definitely worked its way down to the high school level. Fans and staff want big pregame shows and big impact during the game. No one tolerates tinny, inarticulate spoken word anymore. All of the announcements need to be crystal clear and well-balanced. And finally, we're in the South, where high school football is a big deal. We had to give Thompson High School plenty of power to overcome crowd noise. We've found that the Danley J1-94 Jericho Horn is the best solution out there. Just one box does it all: high fidelity, deep low end, intelligible speech and tons of output."
The system begins with new announcement mics, 1/8-inch inputs for portable devices, a CD player, and Bluetooth wireless audio, all controlled from a Behringer x32 Rack digital mixer. From there, signal travels over fiber to a pair of Danley DNA 20k4 Pro multi-channel amplifiers with integrated DSP. The amps reside in an American Products air-conditioned amplifier rack that keeps internal conditions "comfy as a button" for the amps, in Findley's words. By keeping the amps at the base of the scoreboard, copper runs are kept to a minimum, delivering 20,000 Watts to the Danley J1-94 Jericho Horn. The second DNA amp serves as redundant backup. 
"This is our second Danley Jericho Horn installation for a high school football field, and we've got another one lined up next month," said Findley. "When the client heard it and we shared a video clip of the demo, it went all over Facebook. The architect was sharing it with project staff. It's amazing to hear such clear sound at such high volumes from a single end-fired box!"
Danley Sound Labs
Experience Danley in Person
Find a local distributor and schedule a live demo with one of our many experienced distributors and sound consultants.