RON FINLEY STADIUM AT CAMPBELLSVILLE UNIVERSITY GETS A FULLY-WEATHERIZED DANLEY SOUND LABS LOUDSPEAKER, SUBWOOFER AND AMPLIFIER/DSP SOUND SYSTEM
Campbellsville, Kentucky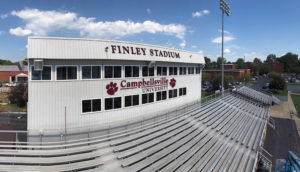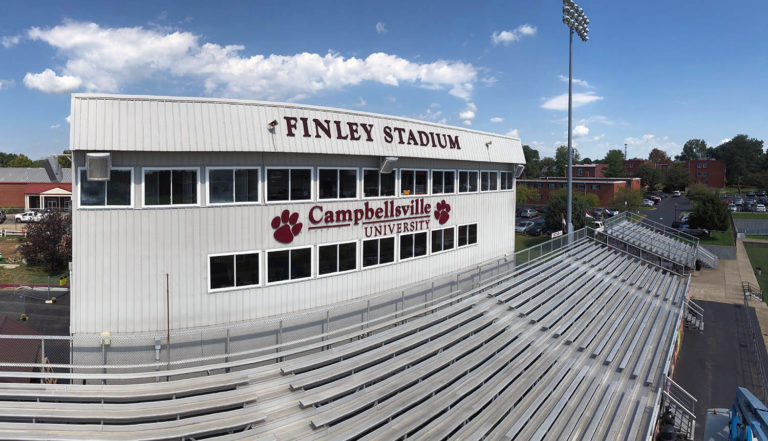 Campbellsville University is a Baptist institution of higher education located in the center of Kentucky. It serves approximately 13,000 students of all denominations and backgrounds and supports a robust athletics program. After a long hiatus that started during the Great Depression, the Campbellsville University Tigers football team reconstituted in 1987 with the construction of a new football stadium, with much of the labor supplied by the athletes who would soon play in it! After several expansions, Finley Stadium today seats 3,500 fans. Its most recent addition is a new, fully-weatherized Danley Sound Labs sound reinforcement system that was designed and installed by the Campbellsville University alums at local integration firm JCA Media.
"The previous audio system had been in place for about a decade," explained Alex Peake, Audio/Video integration specialist at JCA Media. "It was adequate when it went in, but a combination of time, weather, and aggressive over-driving of the small drivers had taken its toll; the system was dying in every form and fashion! We've been hearing fantastic things about Danley systems for a long time, but we didn't think many of our clients would have the budget for it. That was before we really looked into the pricing. Although there are certainly cheaper boxes on the market, we were surprised at how fairly priced the Danley products are, and now that I've heard them, I know they're worth every penny."
Ron Finley Stadium is arranged with seating exclusively on the northwest side of the field below a press box and behind the northeast end zone, although fans regularly congregate on the other sides of the field during games. JCA's design, assisted by Danley, uses two Danley OS80 loudspeakers on each end of the press box, splayed out to cover the majority of the seating area and field. A single Danley OS12CX sits in the middle of the press box facing down to cover the gap that isn't covered by the OS80s. Two more OS80s attached to poles fifty feet on either side of the press box cover the end zone seating and all of the other areas where people congregate. To maximize intelligibility and impact, JCA delayed each loudspeaker relative to the center of the press box. All of the Danley OS-Series boxes ship fully weatherized, ready for Kentucky's heat, rain, and ice.
JCA guaranteed that CU Tiger fans would get a broad, full-fidelity experience with the inclusion of a beefy Danley BC412 subwoofer. "The Danley BC412 sub is unlike anything we've ever dealt with," Peake said. "I was at a game last weekend and overheard several conversations about the bass. People were super into it!" In addition to the main PA, two small, high-fidelity Danley Nano loudspeakers give the VIPs in the president's suite the same clear, impactful audio that the fans in the stands enjoy. Two four-channel Danley DNA 10k4 Pro amplifiers power and protect the system, with integrated DSP and custom presets for every Danley loudspeaker and subwoofer model. An Allen & Heath QU-PAC console, Shure QLXD microphones, Furman power/sequencing, and Denon media players complete the new system.
"The intelligibility and output of these Danley cabinets is unreal," Peake said. "You can hear every word with crystal clarity even way across the field, and there's tons of headroom to spare. We are extremely proud of this system, especially since it's at our alma matter. We already have three future jobs that are locked in for Danley and are excited to do even more. As for Campbellsville University, they're so pleased with it that the athletics department wants them to switch every single athletics facility over to Danley!"
Danley Sound Labs
Experience Danley in Person
Find a local distributor and schedule a live demo with one of our many experienced distributors and sound consultants.