SMALL FOOTPRINT – BIG SOUND: DANLEY OS OUTDOOR SPEAKERS AND SUBS HANDLE PASSAIC COUNTY TECHNICAL INSTITUTE FOOTBALL STADIUM
Wayne, New Jersey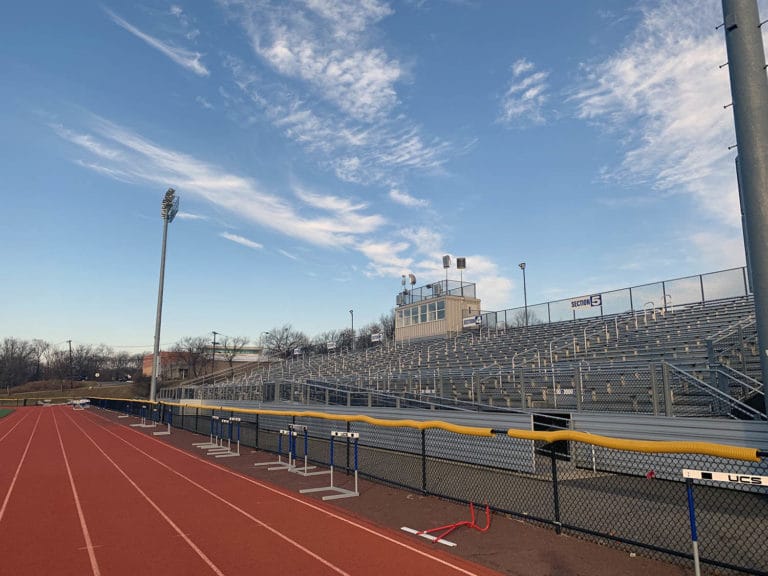 Passaic County Technical Institute is a large vocational, public high school that serves over 3,300 students in northern New Jersey. Its sizable campus is well-appointed, and its programs are well-supported. Two full-time professional sound technicians number among its staff and oversee operations in its performing arts department and at its sporting events. Until recently however, the PCTI Bulldogs football team played for 1,500-plus crowds using only a portable sound reinforcement system that was underpowered and frequently unintelligible. JD Sound and Video of Voorhees, New Jersey, remedied that for the Bulldogs' most recent season with the installation of highly-efficient, big SPL, but small-footprint, Danley OS80 loudspeakers and OS115 subwoofers. Because they're designed and built to be fully weatherized, the Danley OS-Series boxes will serve PCTI for a long, long time.
"The Passaic football stadium had the best of everything for a school its size: new lighting, new turf, a new climate-controlled press box, nice seating, and full concessions," said Joe DiSabatino, president and lead design engineer at JD Sound and Video. "Everything except a great sound reinforcement system. They were limping along with an underpowered portable system for every game. But they had high expectations. Given everything else audio-related at the school and the two full-time, A1 sound techs on staff, Passaic was a critical audience. This was more than the usual 'make the athletic director and the students happy' situation."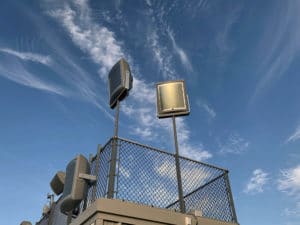 Despite the high expectations, there were major constraints on what JD Sound and Video could do. Given the large size of the home stands, most designers would have flanked the main system with a delay on a pole near each twenty-yard line. But at PCTI, that would have involved breaking up concrete to trench the cabling. It would have necessitated removal of a fence to get an outdoor lift in place. In short, it would have been cost prohibitive. "So, we couldn't use flanking poles, but they wanted the same kind of performance as if we had," DiSabatino laughed. "Moreover, the roof of the press box is used by videographers and assistant coaches. So, we could only use the press box and we had to cover everything, but we couldn't take up much real estate."
He continued, "We needed small boxes with a lot of throw and very high SPLs. Danley is well-known for meeting those requirements. Chris Hutnick [Lienau AV Associates] is our area Danley rep, and he's great. He did a little demo in our shop to prove the concept. I had also heard the Danley technology at InfoComm. The Danley footprint versus output is unmatched. If we had gone with any other manufacturer, it would have required so much more. On top of all that, the Danley OS-Series is designed from the ground up to live outside. It's a pretty perfect combination of features."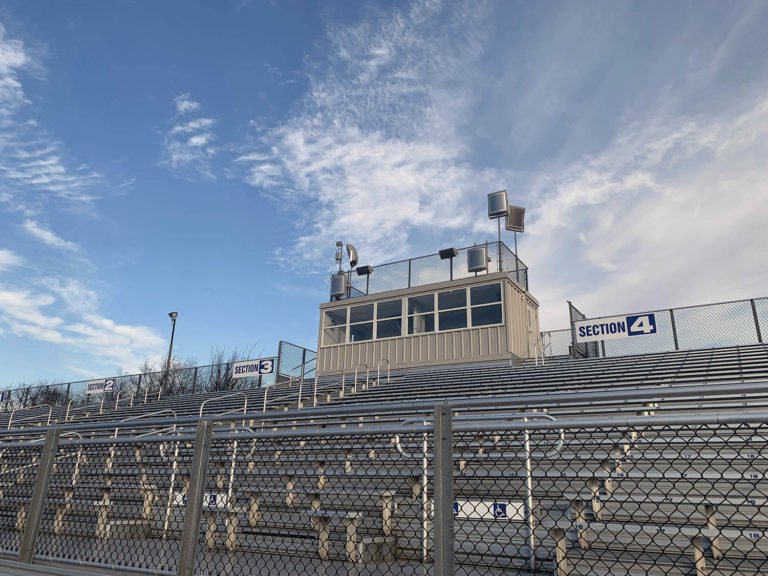 The final design uses three Danley OS80 Synergy Horn loudspeakers to cover the left, center, and right portions of the stands (there is no visitor side seating). The center OS80 is offset on the press box to allow a clear line of sight. Two Danley OS115 Tapped Horn subwoofers near the left and right OS80s provide low-frequency reinforcement – an additional octave to an octave and a half. Finally, two weatherized Danley GO2 8CX loudspeakers add fill just in front of the press box for the seats missed by the OS80s. QSC amplifiers and QSC Q-Sys control/DSP complete the system.
"The Danley boxes installed a lot easier than the other manufacturers we're used to," DiSabatino said. "Bolting a fifty-pound OS80 up on a 26-foot extension ladder was a much less daunting task compared to a box with comparable output from a competitor's product. They were also small enough to fit through the press box hatch, which was nice too. They're tight to the frame of the press box and don't take up any space needed by the people who work up there during games. We had the Danley boxes custom powder-coated, and they look really clean. Even apart from the great Danley performance, the ease of installation will make Danley our go-to solution for similar jobs in the future."
The first Friday night game of the season saw 2,500 Passaic fans cram into the stands and around the field, and everyone thrilled to hear the improvement in sound quality over the previous seasons' portable system. The Danley OS80s easily overcame crowd noise with clear, intelligible announcements and no distortion. "And music sounds really good through the system, too," DiSabatino said. "That's a downfall of a lot of other manufacturers' boxes. They might sound okay with voice, but music sounds like it's playing through a tin can." JD Sound and Video also provided a jack at field level so that the team can practice to whatever music they want.
Danley Sound Labs
Experience Danley in Person
Find a local distributor and schedule a live demo with one of our many experienced distributors and sound consultants.