SMALL-FOOTPRINT, HUGE-OUTPUT DANLEY SPEAKERS AND AMPS VISUALLY DISAPPEAR AT SECOND BAPTIST CHURCH, SPRINGFIELD MISSOURI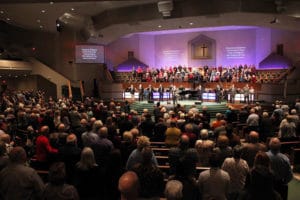 Founded in 1885, Second Baptist Church in Springfield, Missouri has moved, built, and rebuilt numerous sanctuaries in the 130-plus years of service to the Springfield community. It completed its current 1,000-seat sanctuary in the mid-1990s. When recent failures further exposed the shortcomings of what had been an unsatisfying sound reinforcement system from the start, Second Baptist turned to A/V integration firm Sandor Sound Services (Reeds Spring, Missouri). Sandor designed and installed a new complement of Danley Sound Labs SH-96 and SH-95 loudspeakers, whose precision pattern control and high fidelity (even at high SPLs) give the church everything it had been hoping for. Moreover, the Danley boxes' small footprint and optional white finish effectively let them disappear visually.
"Second Baptist Church's existing system was underpowered and left a lot of coverage holes," said Ed Sandor, principal at Sandor Sound Services. "The challenge was to deliver the sizable output they needed without obscuring sight lines or creating an ugly mass of speakers – and to do it on a very tight budget. We were able to reuse their existing subwoofers and balcony speakers, giving us enough latitude to get the right Danley boxes for the main coverage, which was ultimately what was most important."
He continued, "I really only had about five feet from the ceiling to the lip of the proscenium hang. Other companies were suggesting line arrays, which would have hung down too far. They would have looked like monstrosities! I showed them what Danley could do, and they were happy to hear that Danley could give the boxes a white finish to blend in with the white wall above the stage." Sandor designed a system, taking advantage of Danley's array of output patterns. As he has done before, Sandor ran his design past Danley's Doug Jones, legendary acoustician and Heyser TEF Award-winner. "I love having access to Doug's insights," he said. "He made a few adjustments to the design and then flew out at commissioning to verify my tunings."
The straightforward system uses an exploded LCR array of three loudspeaker clusters. Each cluster is comprised of a Danley SH-96 for main coverage and a Danley SH-95 for front fill. The use of Danley's custom hanging hardware made the installation and commissioning far easier than it would have otherwise been. The SH-96s manage to catch a good portion of the balcony, so Sandor adjusted the existing delay boxes to pick up where the Danleys leave off. Two four-channel Danley DNA 20K4 Pro amplifiers provide abundant power for the new loudspeakers, along with Danley-loudspeaker-specific turnkey processing. Sandor made adjustments to an existing BSS SoundWeb DSP to work with the new system. For budgetary reasons, existing subwoofers fill out the low end.
"Those six Danley boxes cover the room beautifully," Sandor said. "Their tremendous output, especially given their size, is amazing. It was great that Danley could help us match the room's aesthetic with a white finish. The aesthetics are a big deal to Second Baptist, and they're thrilled with the result."