SOMETIMES IT'S THE LITTLE THINGS DANLEY WEATHERPROOF SPEAKERS AND SUBS MAKE FOR SUPER ENJOYABLE SOFTBALL AND TRACK EVENTS AT UNIVERSITY OF MONTANA
Missoula, Montana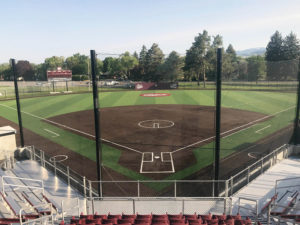 The University of Montana Grizzlies sports teams compete in the NCAA Division I Big Sky Conference. Although the school has been supporting a track and field team since the 1960s, it only recently added a women's softball team. Both teams regularly draw crowds of up to 1,000 people. Until this year, staff set up a temporary PA system for every event. With design help from the engineering staff at Danley Sound Labs, both fields recently were upgraded with permanent, fully-weatherproof Danley OS-Series sound reinforcement systems. Now all meets, games, and even practices are full-fidelity, big-impact events with significantly elevated experiences for everyone involved.
"It was kind of a homemade sound system previously," said Chuck Maes, associate athletic director for internal operations and the person who directed the upgrade for the university. "We had a couple of boxes that we could put up on the press box for track and field events or hang from the backstop for softball games. It was the same system we'd set up for tailgate parties and other small functions. Our softball field is only a few years old, and we've been building it out in stages. Now that it has a permanent press box, we thought it was time to bring the sound quality up to what a facility like ours should be. At the same time, one of our two portable speakers used for track died, so it seemed like a good time to upgrade the track and field experience as well."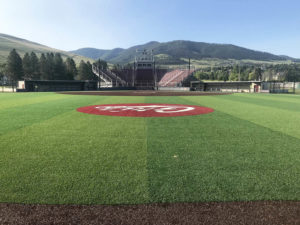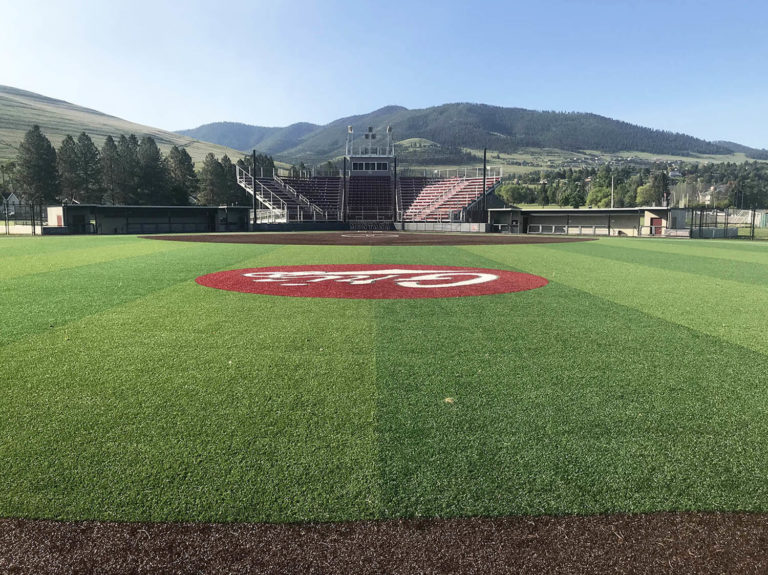 According to Maes, the success of the recent Danley installation at the school's Washington Grizzly football stadium (capacity 25,217), led them to conclude that, "Danley was the logical choice when we looked at upgrading the softball and track venue."  Maes and colleagues also installed two Danley point source loudspeakers and subwoofers in the new Washington-Grizzly Champions Center. One system was installed in their new 20,000 square-foot, state-of-the-art, Strength & Conditioning Center and the other was installed in their new 6,500 square-foot football locker room. The sound quality and sheer volume are big hits with the student-athletes and with everyone who has subsequently heard it. "Our teams practice a lot," Maes added. "We spend a lot of time on the field. I wanted to give our athletes high-quality sound reproduction, not the tinny, raspy sound I hear at 90% of the venues we visit. Based on past experience, we knew Danley was the solution." Since Missoula, Montana is well-acquainted with inclement weather, Danley engineers recommended the fully-weatherized Danley OS-Series loudspeakers and subwoofers for the permanent installations at the softball and track fields.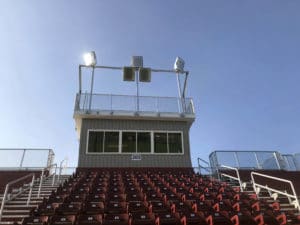 The designs at both fields are quite similar and involve three Danley OS80 loudspeakers splayed to give left-center-right coverage and two Danley OS115 subwoofers for deep low-end support. Repurposed Crown amplifiers power the boxes, and each system uses a new Danley SC48 DSP for input conditioning, loudspeaker conditioning, and protection. The softball system sits on top of a custom-built ten-foot structure on top of the press box, which allows a camera crew to film the game from below, and the coverage is fantastic, with each OS80's pattern knitting perfectly with the adjacent boxes.
"We really knocked it out of the park for the Big Sky Conference track and field event this spring," he continued. "Everyone was able to hear and understand all of the announcements, and the high-fidelity music really added to the experience. Sometimes it's the little things you don't notice and some people might not have been able to put their finger on what they enjoyed so much. But I really believe the sound was a big part of what made it so successful." Going forward, Maes looks forward to running a cable between the two fields so that the optional Dante card installed on the Danley SC48s can allow the systems to mirror one another. That will be most useful for other big track and field events, where the softball field serves as a warm-up site.
Danley Sound Labs
Experience Danley in Person
Find a local distributor and schedule a live demo with one of our many experienced distributors and sound consultants.