Summit Woods Baptist Church Benefits from Danley Sound Labs Fidelity, Pattern Control, and Small Footprint
Lee's Summit, Missouri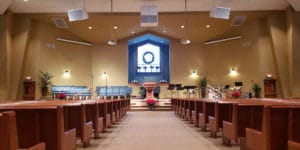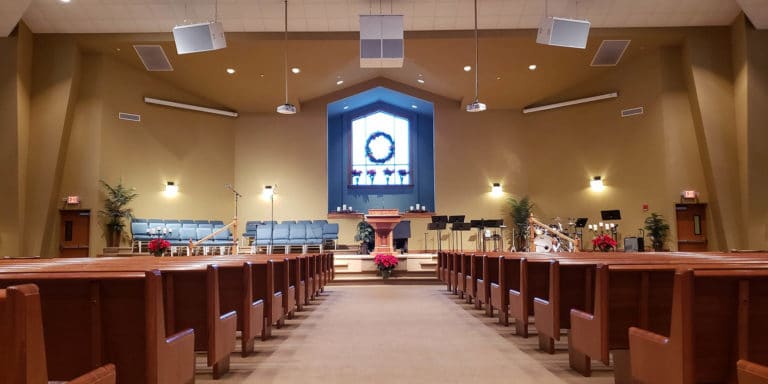 Summit Woods Baptist Church is a large but relatively young church in Lee's Summit, Missouri. It moved into its first permanent sanctuary in 2004, a space that it had helped to design. Although most aspects of the 650-capacity, fan-shaped sanctuary (with room to expand to 1,000) were serving the congregation well, its acoustics and sound reinforcement were not. Their blended service style – everything from a contemporary band to choir to orchestral instruments – lacked the impact it deserved. Avoiding the expense, footprint, comb filtering, and destroyed sightlines of a line array, AV integration firm Advanced Sound & Communication, of Kansas City, Missouri, designed and installed a Danley Sound Labs system with excellent intelligibility, pattern control that minimizes the impact of the poor acoustics, and a small footprint that maintains a clear view of the video screens and stained glass windows from any pew.
"Perhaps the biggest challenge facing Summit Woods was a desperate need for acoustic treatment," explained Brent Handy, consultant, engineer, and integration project engineer with Advanced Sound & Communication. "Reverberation time is near four seconds. They had an aging central cluster that lacked bass, provided poor coverage, and generated plenty of SPL on stage and thus a lot of low-mid feedback problems. They couldn't afford acoustic treatment for this upgrade, but they could afford a new sound reinforcement system."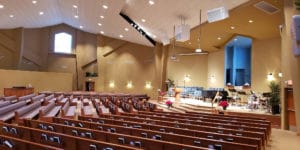 Handy continued, "Given everything they were up against, Danley Sound Labs was my first thought. Danley's point-source technology has all of the frequencies coming out of the same horn at the same time, which delivers high intelligibility and great pattern control without any DSP voodoo in the background. They had visited other churches to evaluate other sound systems, and so their first question was, 'do we need a line array?' We showed them models of line arrays versus Danley point source systems. The Danley system covered the room more evenly, provided a smoother transition from midrange to bass and didn't wreck sightlines to the stained glass and video screens behind the stage, or the budget."
Handy designed a straightforward left-right system with a pair of beefy Danley SH96HO full-range loudspeakers. The aisles are wide enough, and the seating is spread out enough so that there is no appreciable comb filtering on the inside seats, and the patterns drop off nicely just before the walls on the outside, minimizing the impact of the long reverb time. Since the concrete stage couldn't accommodate subwoofers, Handy flew a pair of Danley TH118XL subs in the center. One four-channel Danley DNA 20k4 Pro amplifier and two four-channel Danley DNA 10k4 Pro amplifiers power the system with onboard DSP and model-specific presets. Handy chose the optional Dante connectivity, which receives signal from a new Allen & Heath SQ7. The SQ7 in turn receives signal from new Shure ULXD wireless microphones with Dante connectivity.
"There is a night and day difference. The new system sounds fantastic," Handy said. "People can now hear whispers and page noise in the choir – they can hear the diction, the enunciation. The violins sound like violins. The piano sounds like a piano. You can even tell the difference between the subtle characteristics of different vocal microphone types. This system has plenty of gas and lots of gain-before-feedback. The Summit Woods technical staff can now mix and equalize for creativity and taste instead of damage control!"
When the elder-led church elects to expand its available seating, Handy ensured the new Danley system will be ready to accommodate the change with minimal adjustments. The Danley SH96HOs will raise a few degrees and new (smaller) Danley SH95HOs will provide front fill. Open amplifier channels are already set up to power the fills. Interestingly, Danley's "cliff-edge" pattern control accelerated the church's thinking about acoustic treatments because musicians and singers can now hear the unmasked effects of the room on stage. "The prior system had poor pattern control and was aimed improperly. It was covering high on the side walls and ceilings quite well," Handy said. "With the Danleys, the pattern control is very tight, and the stage is quiet. They can hear the reverberation clearly, which made it easier to think about improving it."
Danley Sound Labs
Experience Danley in Person
Find a local distributor and schedule a live demo with one of our many experienced distributors and sound consultants.