UNIQUE CHALLENGES CALL FOR UNIQUE SOLUTIONS: DANLEY SOUND LABS AT GREEN LAKE CONFERENCE CENTER
Green Lake, Wisconsin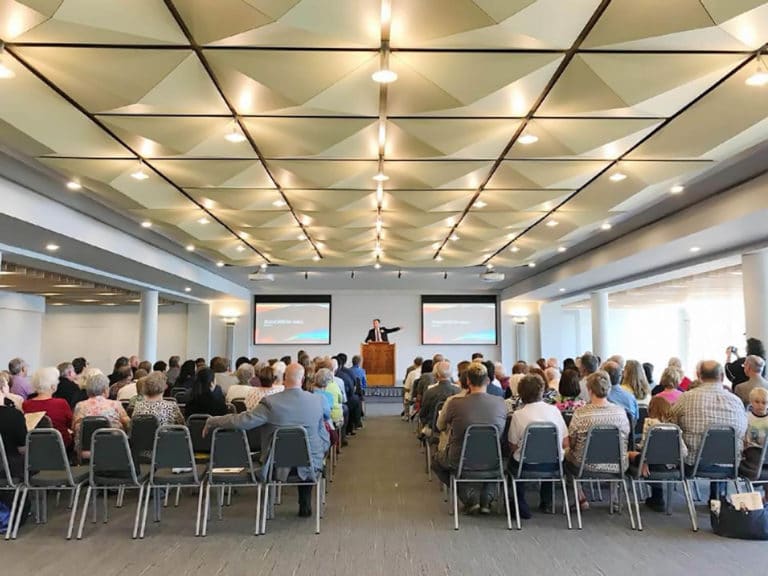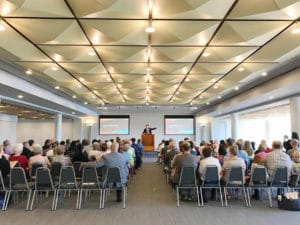 Hugging the northern shore of Wisconsin's deepest natural lake, the Green Lake Conference Center traces its origins to Jessie Lawson, wife of Chicago Daily News publisher Victor Lawson. In the late 1800s, Mrs. Lawson established a resort estate – the couple's home away from Chicago – which grew through successive owners until it came under the control of the American Baptist Churches USA in the 1940s. With emphasis on religious retreats and secular conferences, the Green Lake Conference Center accommodates up to 1,000 visitors and provides them with nine-hundred acres to explore, fifty meeting spaces, a range of lodging & dining options, and outdoor recreation of every imaginable type, from boating to ziplining. And now, thanks to integration firm Audio Contractors, of Oregon, Wisconsin, the Green Lake Conference Center boasts two rooms with Danley Sound Labs loudspeakers and subwoofers – arguably the highest hi-fi in south-central Wisconsin.
"The Green Lake Conference Center reached out to us because they had two important rooms with major shortcomings in their audio systems," explained Andrew Szlapka, commercial systems designer with Audio Contractors. "First, the existing in-ceiling system in their large 150' x 60' dining room produced unintelligible sound. The speakers were mounted in the ceiling, thirty feet up. I've been spec'ing Danley loudspeakers and subwoofers for a while now based on their proven ability to deliver hi-fi sound and to work reliably. Because the conference center was understandably concerned that we maintain a nice visual aesthetic in the dining room, I thought of Danley Nanos, which are an unobtrusive six-inches cubed. We could mount them discretely from brown beams that crisscrossed the room at only fifteen feet."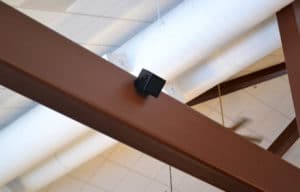 Szlapka worked with legendary acoustician Doug Jones (an eight-year member of the Danley team) and with Danley Direct, a modeling program which Jones helped develop, to make not only accurate mid- and high-frequency predictions, but also accurate low-frequency predictions that other modeling software cannot. "Working with Doug Jones was like a dream come true," Szlapka said. "It's the kind of top-tier help you always want from a manufacturer and Danley is one of the few companies that consistently delivers it. Doug took his time to really teach me how to use Danley Direct. I brought the model predictions to my sales presentation, which was a huge selling point. They cut a check that very day!"
The Green Lake Conference Center dining room uses fifteen Danley Nanos distributed around the room with low end conveyed by two Danley THmini subwoofers mounted eighteen feet apart on a ledge. "The Nanos sound great," Szlapka said. "It's hi-fi in a distributed system, and the THminis really fill out the bass. They can use that system for teen dances; that's how much output it has! And with the dining room stage set behind the distributed system, gain-before-feedback is huge." QSC CMX-Series amplifiers power the Nanos and a QSC PLX-Series amplifier powers the THminis. Ashly DSP and user interface completes the dining room system.
"Their second issue was Staughton Hall, which is about 68' x 22' but only ten-and-a-half-feet tall," Szlapka said. "The big challenge was the deep length combined with the low ceiling height. Their old system was distributed overhead, but when they had a band on stage, everything localized to the ceiling. It was pretty bad. Don Ludwig (the upper-Midwest rep for Danley) had told me about Danley's SBH-series of column-form point-source loudspeakers. I modeled the room in Danley Direct like Doug Jones had taught me. It showed that a pair of Danley SBH20LFs would cover seventy-five percent of the room and deliver the bass as well with built-in subwoofers."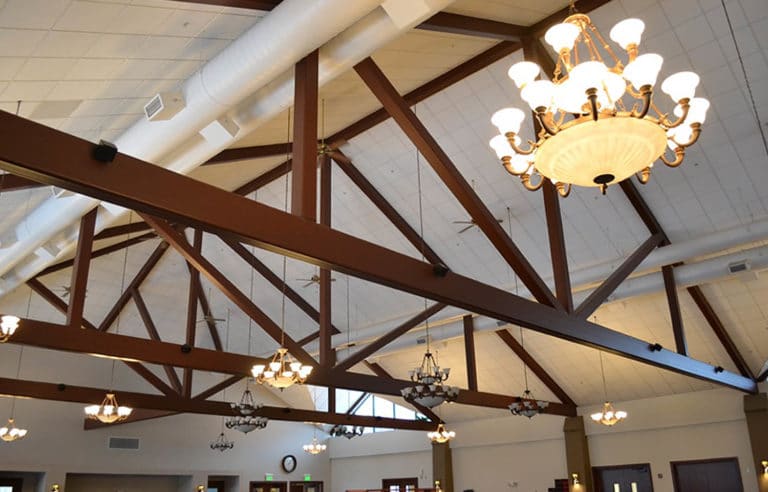 The Audio Contractors team worked with the architect to recess the Danley SBH20LFs into the wall on either side of the stage. To cover the back corners that the column speakers couldn't reach, Szlapka installed two Danley SHMicro loudspeakers. Powersoft Duecanali amplifiers power the system with an Ashly DSP and user interface. "Staughton Hall is ready for conference presentations, but it's also ready for live bands," Szlapka said. "We gave them all the inputs and connectivity to make that easy. Moreover, Danley's phase-coherent output and well-defined pattern control minimizes any feedback problems."
Danley Sound Labs
Experience Danley in Person
Find a local distributor and schedule a live demo with one of our many experienced distributors and sound consultants.