WASHINGTON STATE UNIVERSITY THUNDERS WITH DANLEY JERICHO HORNS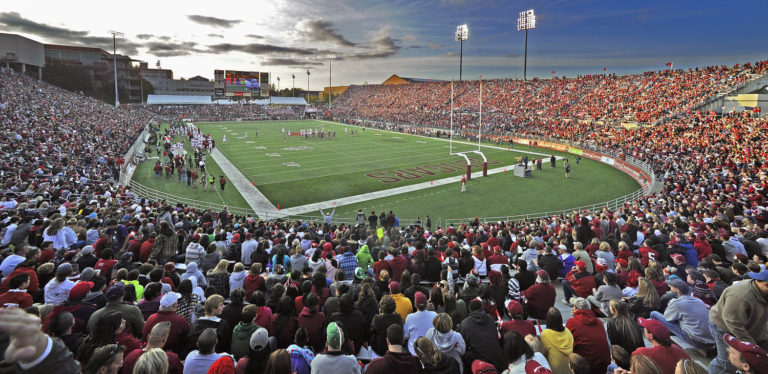 The Cougars football team of Washington State University plays all of their home games in 33,500-seat Martin Stadium. Although on the smaller side among its Pac-12 peers, the stadium has more than enough seats for every resident of Pullman, Washington (the university's home), and loyal alumni and visiting fans easily make up the difference, filling the stands to near capacity on game day. Recent additions to the stadium necessitated relocating the scoreboard to the opposite end zone, and that in turn inspired a full upgrade to Martin Stadium's sound reinforcement system. Three Danley Sound Labs J3-64 Jericho Horns, two J4-31 Jericho Horns, and four TH-812 "Rock Monster" subwoofers now fill Martin Stadium with glorious, high-fidelity sound.
Washington State University called in Anthony James Partners of Richmond, Virginia to design the sound system. "It was a pretty straightforward situation," said Lee Vaught, senior audio engineer at AJP. "Martin Stadium is a bowl with almost no overhang. A distributed system wasn't an option. We had to go with an end-fired system, and the new scoreboard was the obvious place to put it. The only question was exactly what boxes to use. This is my first full Danley installation, and the their design provided the necessary coverage with vastly fewer boxes than I would have used with conventional technology." 
Three Danley J3-64 Jericho Horns provide the majority of the full-range coverage at Martin Stadium. They split the stadium down the middle, with the odd J3-64 covering the additional asymmetrical seating below the press and suite box. Two Danley J4-31 Jericho Horns deliver high-frequency content to the far seats, where otherwise the high end would be diminished having traveled through so much air. A single Danley OS-80 weatherproof Synergy Horn loudspeaker fills in for the seats right below the scoreboard. Four Danley TH-812 "Rock Monster" subwoofers – two to a side – complement the fidelity of the full-frequency components with robust low end. A handful of JBL Control 28 loudspeakers provide coverage of the small shaded area underneath the press and suite box. A rack of Crown i-Tech HD-Series amplifiers powers the system, with processing from a BSS London backbone.
Danley Sound Labs, President Mike Hedden commented, "This was a short turnaround project and was one of the first using our SketchUp plugin module in DDT3D. This is a very powerful 3D coverage program we developed that enables accurate predictions of all frequencies from 20Hz and up. We've worked with virtually all the major modeling programs and DDT is simply the easiest yet powerful program out there. This enabled us to turn the entire design around in basically one day."
"The coverage is great," said Vaught. "The long throw across the field is impressive, and the high end from the J4s together with the low end from the 812s provides a full-frequency experience that stadiums with conventional systems would have a hard time replicating. Surprisingly, we actually received a request to turn the system down after the first few home games. That never happens! If anything, systems aren't loud enough. But at Martin Stadium, we pulled it back a bit. There's plenty of headroom, and it sounds clean and undistorted. Cougars fans will enjoy this sound system for a long time to come!"
Danley Sound Labs
Experience Danley in Person
Find a local distributor and schedule a live demo with one of our many experienced distributors and sound consultants.