WYCLIFFE BIBLE TRANSLATORS UPDATE AUDITORIUM WITH ALL DANLEY GEAR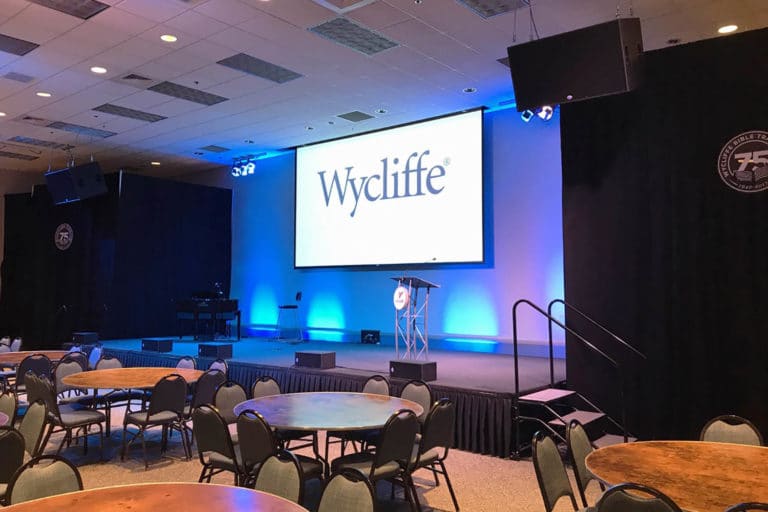 Based in Orlando, Florida, Wycliffe Bible Translators has an ambitious mission: to translate the Bible into all of the world's 6,877 languages. Wycliffe's international team is already over 40% of the way there and working apace to have a Bible translation project begun in every language that needs one by 2025. At its Orlando campus, Wycliffe has a divisible 700-seat meeting room for semi-annual scripture translation celebrations, concerts, banquets, and myriad other events. After living with the room's disappointing sound reinforcement system for over a decade, Wycliffe recently hired Michael Garrison Associates (MGA) of Fresno, California to make it right. MGA recommended a new system based on Danley Sound Labs' innovative Synergy Horn loudspeakers, Tapped Horn subwoofers, and new multi-channel DNA amplifiers with onboard DSP.
Wycliffe's original sound reinforcement system was a distributed, in-ceiling design that distorted on day one, even with spoken word sources. Music reproduction fared worse, which was becoming a more conspicuous problem as Wycliffe moved to more multi-media presentations and events. "When Wycliffe initially approached us, their media systems engineer, Eli Garrett, had compiled a list of top loudspeaker manufacturers and the line arrays he thought we should consider," said MGA Principal Michael Garrison. "Eli knows his stuff (he's also an audio technician at a major local theme park), but we felt the room's low ceiling height made it a poor candidate for a line array system. Although it wasn't on his list, we suggested a Danley point source system and provided the loudspeaker coverage modeling to back it up. To their credit, Eli and the rest of the stakeholders at Wycliffe kept an open mind toward a brand they hadn't heard of before."
Russ Hersman, Wycliffe's chief operations officer, added, "I'm about as far away from being an audio technician as a person can be, but even I recognized that the previous system in our auditorium was sub-standard and getting worse. We turned to Michael Garrison Associates to replace it. I have known MGA since their beginnings and have been in several large auditoriums where MGA provided the audio, video and lighting solutions. Even my untrained ear could recognize the higher quality and experiential satisfaction of their work. We also knew MGA to be of the highest integrity, and they did not disappoint us!"
It was relatively recently that MGA started designing systems using Danley components. "I think Danley has three very outstanding qualities," Garrison said. "First, we prefer the lower distortion, high fidelity that can be achieved with Danley's point source designs, as compared with the inherent higher distortion of other high-compression products. It's pure and clean – more like a studio monitor or home hi-fi system. Second, Danley boxes can get screaming loud with very low distortion – easily competing with (and exceeding) line array levels. When Wycliffe needs concert-level SPLs, they can easily achieve them! Finally, Danley systems are remarkably cost effective. When I compare the listening area that can be covered with just a handful of Danley boxes and then do the math for comparable coverage from other types of products, the Danley system comes in at a significantly lower price. It's a premium product without the premium cost."
Wycliffe's new system relies on two beefy Danley SH-96HOs flown just off to either side of the stage for main left-right coverage, supplemented by five Danley SH-Micros for front fill. Two Danley SH-95HOs provide delay coverage for the back third of the room and can be turned off when that part of the room is subdivided away from the rest. Because of the lack of ceiling height, four Danley TH-118 subwoofers fill out the low end from the floor on either side of the stage (two per side). Two four-channel Danley DNA 20K4 Pro amplifiers with onboard DSP power the system with help from another lower-power four-channel Danley DNA 5K4c amplifier (also with onboard DSP). The amps take signal from the house mixing console via optional Dante connectivity.
"I was in the auditorium this past week when Eli [Garrett] was putting the new Danley system through its paces," Hersman said. "Wow… what an amazing difference! The Danleys surround us with awesome sound and fill the auditorium so that, regardless of where one sits or stands, the experience will be a good one."
"The new Danley system blows our old system away," said Garrett. "The Danley sound is much thicker, much more powerful, and much clearer than we've ever experienced before in this room. The vocals punch right through the mix with very little EQ-ing or compression. We used to have big problems hearing more than one vocalist, but now I can easily distinguish everyone, even before I really start mixing. The installation itself was pretty easy, and the folks at MGA and Danley were a pleasure to work with. Whenever I had a question, they had a ready answer."
Danley Sound Labs
Experience Danley in Person
Find a local distributor and schedule a live demo with one of our many experienced distributors and sound consultants.